Department Head Message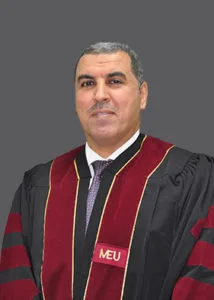 This website of the Middle East University (MEU) highlights the Faculty of Educational Sciences including its vision, objectives, management, boards, departments, faculty members, plans of study and activities. It is a promise to our students, and in turn we adhere to, that the Faculty will continue in seeking to become a scientific place that is comfortable, healthy, and democratic in which students will gain specialized and transferable knowledge, and skill and culture that will help them to become a competent academic and a creative think tanks capable of meeting the challenges of the future through building the future generation, thus meeting the needs for a changing society and participate in sustainable development.
The college is also working to shape its policy and, thus define its objectives in light of the university's goals and philosophy, which emphasizes a promising future vision. The website of the University, presents the necessary information to help guiding you in all processes of admission, registration and studying until graduation and getting your degrees. We feel that your tour may give a clear account on the diversity within the staff and programs. We cordially invite you to define your interest amongst the programs offered at the MEU and the research activities offered by the Faculty. However, spending some time and closely examining and exploring from a nearby distance is fruitful. We hope that you will find all information you need about our department and able to meet your needs and requirements. You may drop us a note, to know how we can better serve your needs.
Head of Administration and Curriculum Department
Dr. Othman Mansour