Dean's Message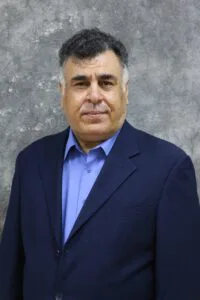 I am happy to welcome you to the Faculty of Architecture and Design here at MEU that founded in the academic year 2010/2011. Whether you are coming from Jordan, or form other countries, you will be part of one of the most progressive and dynamic teaching and learning environments of higher education in Jordan. You will be studying Graphic Design (Bachelor's and Master's Programs), Interior Design, and Architecture in studios, CAD labs, workshops, and seminar rooms which are among the best-resourced in Jordan. The university has invested extensively in state of the art technology, infrastructure, and specialist staff to ensure you have an exceptional learning experience.
Once you have made the decision to major in any of our programs, you will indulge in various courses in four years over eight semesters in Graphic Design and Interior Design and five years over ten semesters in Architecture. In Design studios, you will participate in both formal and informal critiques, where you will discuss several aspects of design and much more. As a student in Architecture and Design here at MEU, you are expected to combine design and technology to communicate with audiences and customers in the near future. The Faculty encourages you to combine your culture and traditions along with the latest software to create a unique design. Indeed, there is so much to learn to enable you to become a competitive Architect or Designer, and we will help you to do so.
You will be also working alongside many professors and academics with national and international reputation in the practice, creative industries, and research. Therefore, in line with the vision of MEU, as a graduate of the Faculty of Architecture and Design, you will be creative, confident, and forward thinking. Since we believe in bridging theory and practice, the Faculty has established close links with businesses and creative associates in architecture and design. At the heart of our teaching we place employability of our graduates and we seek to follow up on their progress and success stories.
There will be many activities across our campus and in tandem with other activities in the community. These include study trips, exhibitions, and special events such as conferences. There are also plenty of opportunities for you to get involved with the life of the Faculty i.e. volunteering for our community service center or creative art unit. As well as making lasting friendships with some of your fellow students, you will come across great teachers, scholars, architects, and designers. Thus, we would urge you to take full advantage of the opportunities, which will come your way during the academic year. We will make sure that you get lots of support from the administration teams based around the Faculty and in MEU. We believe that this is an amazing and stimulating environment sparkling with talent and ideas, which now you are part of it.
Acting Faculty of Architecture and Design Dean
Dr. Jamal Al Qawasmi
dean-archdesg@meu.edu.jo