Dean's Message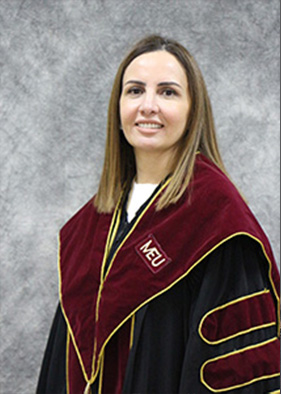 The Faculty of Media at Middle East University (MEU) is the first faculty in Jordan to award an MA in Media, as media was a subject of study at MEU since its foundation, being one of the Faculty of Arts' departments. In 2019, this department was reintroduced as the Faculty of Media upon the belief in the significance of media's role in the various aspects of life, especially those related to the fields of development. The faculty, in addition to the MA in Media, offers three BA programs in Journalism and Media, TV and Radio, and Digital Media. It is distinct with (12) faculty members of different academic ranks, and (225) BA and MA students.
The faculty tirelessly seeks the application of the University's slogans: "Knowledge is Power" and "Preparing Leaders" by qualifying media professionals capable of reinvigorating media's mission on local and Arab scales. The faculty is set upon a vision based on eminence in academic programs and community service in the field of media, and a mission that aims to prepare and qualify distinct graduates capable of competing in the field of media by imparting them with modern concepts, skills, and expertise, as the faculty's study plan focuses on application and practice. Media students are trained at the faculty's studios that contain laboratories for journalism editing and digital media, and TV and radio studios that are equipped with state-of-the-art technologies. Students are also trained at various public and private media institutions.
The faculty aims to be a distinct academic beacon in the field of media in the Kingdom and Arab world, and in comparison with the best media academic institutions in the world. The faculty sets high expectations when it comes to the recruitment of qualified professors and experts from various international schools, and offering pioneering programs in the field, as well as carrying out scientific researches related to community's priorities and primary issues.
The Faculty of Media has conducted tens of MA theses that covered vital subjects and issues of concern to the community (local and Arab), and fulfilled its needs in media knowledge fields: (journalism and media, TV and radio, digital media, public relations, and advertisement).
ِActing Dean of Media Faculty
Dr. Hanan Ismail
dean-media@meu.edu.jo