Message from the Dean of the Faculty of Law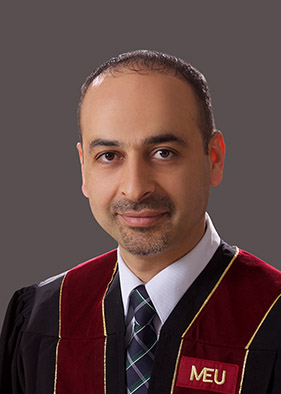 Upon the Qur'an verse that urges cooperation, assistance, sharing opinions, promoting support, and spreading the spirit of unity; the idea of establishing the Faculty of Law at Middle East University (MEU) was formed and executed in the academic year of 2005/2006. It was then that the Faculty received the first batch of MA students, to later proceed to the establishment of a BA programme in Law. Successfully, it has received the first batch of BA students at the beginning of the academic year of 2008/2009. The Faculty achieved – in a short period of time – multiple successes in various fields. Starting with the attainment of advanced placements in the University Competency Test, and the obtainment of the Quality Assurance Certificate for Academic Programmes (Golden Standard), issued by the Accreditation and Quality Assurance Commission for Higher Education Institutions. With the latter, it has become the first faculty to obtain the said certificate in the Hashemite Kingdom of Jordan. Additionally, it has played a vital role in the University's acquirement of the ISO 2015:9001, and a place in the QS World University Rankings. Last but not least, the Faculty is a member of International Association of Law Schools (IALS), and Arab Association of Law Schools (AALS).
The Faculty of Law led the initiative to extend bridges of cooperation with its counterparts, in addition to civil institutions, as well as vocational and legal entities. It succeeded in its endeavour through faculty members' participation – each according to his/her specialisation – in conferences and seminars held inside and outside the Kingdom, and hosting many scientific and professional seminars itself.
The numbers of the Faculty's national and international students are constantly increasing. Such statistics are a result of its methodology and strategy which involve the development of students' intellectual and analytical abilities, with focus on communication skills that are bound to establish their personalities.
The Faculty did not stop there; it continuously develops its programmes, plans, and teaching methods through electronic education and learning. It aims to uplift students and alumni's performance in correspondence to labour market requirements. The Faculty also encourages the effective participation of its students and faculty members in an open-minded, tolerant, and democratic society. It prepares legal professionals who embody, believe, and live for their art.
Finally, the Faculty of Law – which I am honoured to represent – contributes to the promotion of law's role in the development of society through its strict legal education, and by enabling its students of facing the challenges of the third millennium, in a rapidly changing world which does not tolerate stagnancy and exclusion.
ِActing Dean of Faculty of Law
Prof. Ahmad Allozi
dean-law@meu.edu.jo