Department Head Message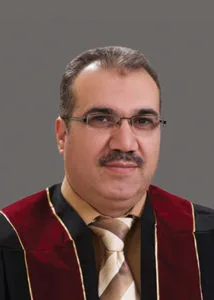 The Department of Public Law seeks to provide distinguished levels of education in law, which meets international educational standards. The Department also provides the community with highly qualified graduates in public law equipped with personal and special understanding skills and research capabilities to better serve the legal profession. This is done through the courses offered by the Department in many disciplines that are distributed in such a way as to cover all area fields including: Constitutional Law and Political Systems, Administrative Law, Criminal Law, and International Public Law.
The aim of the Department is to provide legal resources for students and graduates in the above mentioned field areas in order to graduates which are responsible for public service and participating in community efforts. Finally, I would like to welcome visitors who tour and browse the Internet and who are interested in our program, or particularly interested in research activities of our faculty members. You are kindly requested to contact us for further information.
Head of Law Department
Dr. Ayman Al-Rufua'