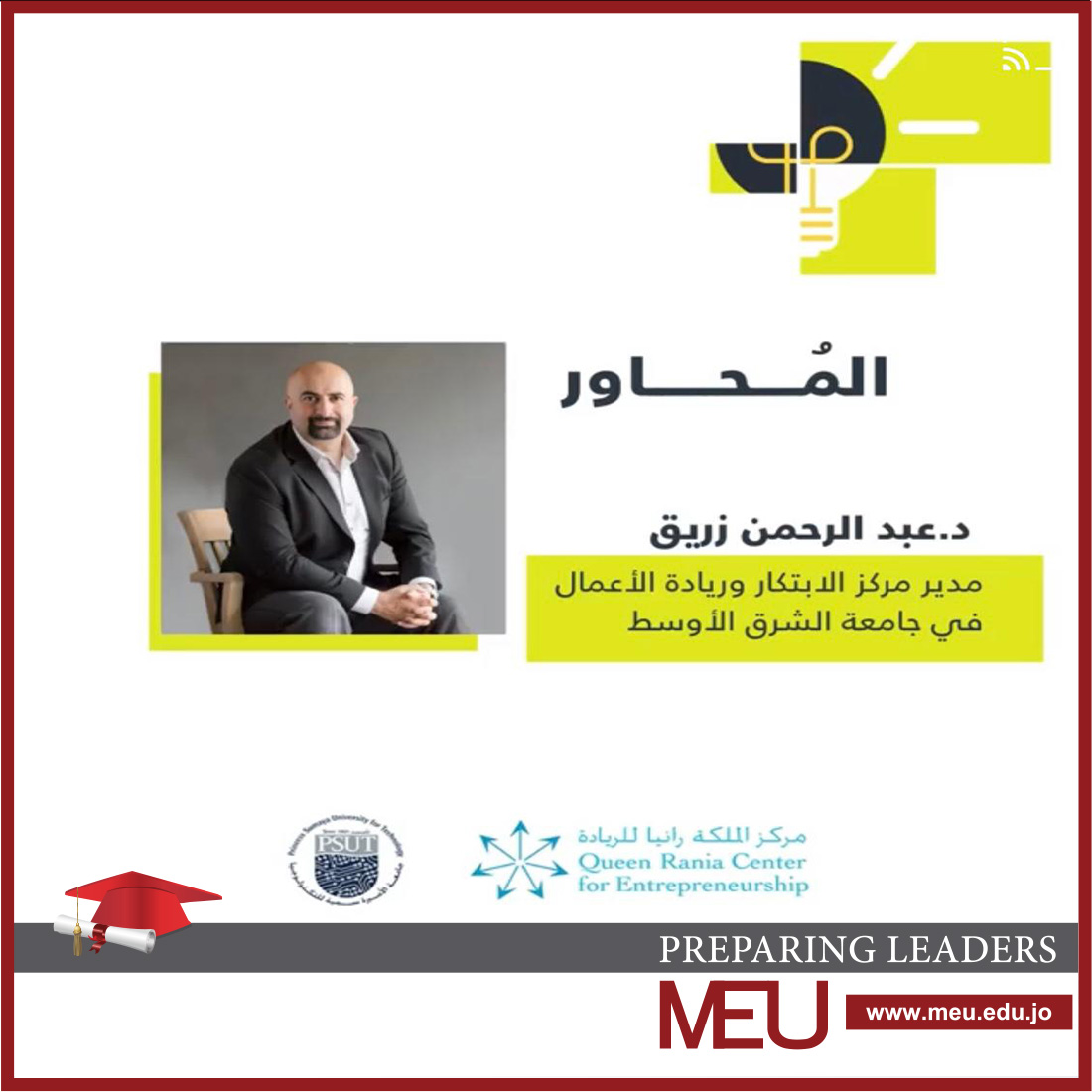 The Director of the Innovation and Entrepreneurship Centre at Middle East University, Dr Abdelrahman Zuraik, moderated a discussion session titled [Opportunities for Funding Start-ups and Endorsing National Innovation], which was organised by the Tank by Umniah during the Global Entrepreneurship Week. The session's speakers included the Director of the National Center for Creativity, Ms Huda ar-Rawabdeh, the Acting Director of the Scientific Research and Innovation Support Fund Directorate, Dr Waseem Halaseh, and the Head of the Innovation and Entrepreneurship Department, Ms Eman Mannaa'.
Dr Zuraik brought attention to the importance of enabling start-ups and entrepreneurs, and promoting digital economic activity, being¾as he described¾the bedrock for a sustainable national and global economy. He stated that being involved in entrepreneurship and innovation fields is no longer an intellectual luxury, but a primary requirement to advance our national economy and move towards achieving the development goals the Jordanian leadership calls for.
Dr Zuraik said it is necessary to cope with the current pandemic, as experts and international health organisations estimate it will continue on affecting the world for two more years. He added that most of the time, creativity is the only way to overcome crises, as officials in both public and private sectors usually turn to brainstorming when looking for solutions to the challenges they face.
On ways to deal with crises, Dr Zuraik commented that crises constitute a true opportunity to change current states to the better, as opportunities are usually disguised as challenges. He added that if we closely inspect the medical and commercial sectors, even public institutions and civil service providers, we will find that these entities always look to find creative solutions in times of crisis.
Dr Zuraik also stressed the importance of training human resources on dealing with crisis, being the greatest challenge that may face any company or commercial institution. He said that any organisation has one of two options; either fail or go bigger, and miracles can only be conjured through creativity, team-work and exceptional effort.
Dr Abdelrahman Zuraik is the proud recipient of a PhD in Innovation Leadership from Alliant International University in California. He received a certification in Strategic Innovation from Harvard University and GIMI. He is also the Middle East's Ambassador for Innovation and a committee member at the Scientific Research and Innovation Support Fund. He is the author of numerous research papers in esteemed international journals for institutional and individual innovation.