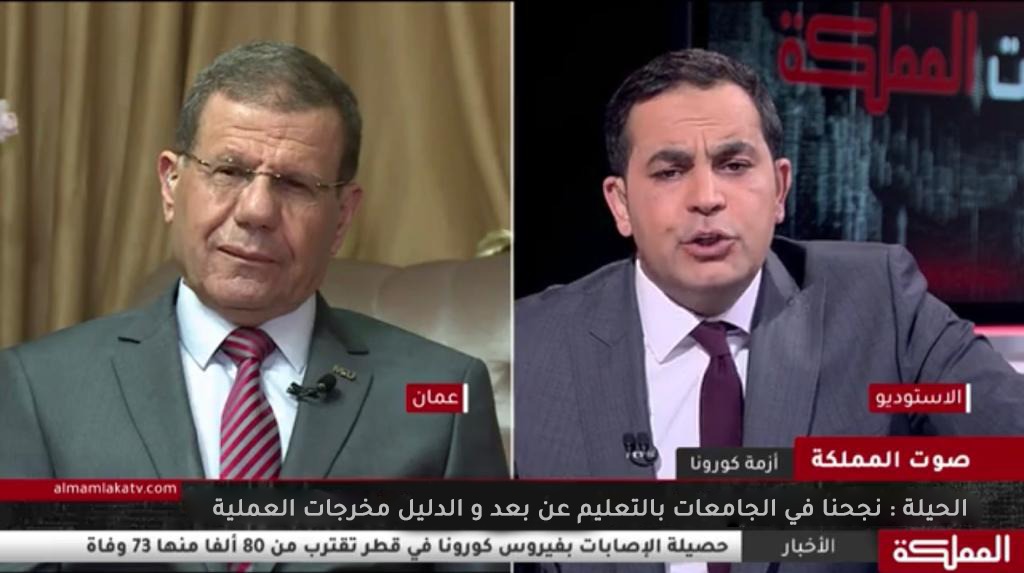 AMMAN – The President of Middle East University, Prof. Mohammad al-Hileh, confirmed the success of the distance learning process, saying, "The positive feedback universities¾especially private ones¾received from students on the distance learning process, alongside the outputs we have produced, is testament to its success."
Prof. al-Hileh was a guest on "Sawt al-Mamlaka" TV show aired on Al-Mamlaka, in an episode that was dedicated to discussing the success of distance learning and allowing students to opt for a pass/fail option. The guests and host also evaluated higher education outputs in light of the Coronavirus outbreak in Jordan and around the world.
Prof. al-Hileh stated, "The distance learning experience was successful, despite of the challenges we have faced. Universities' technological infrastructure, especially private ones', facilitated the implementation of the distance learning process." He continued to add, "We will now be able to develop our technological capacity and resolve the issues we have faced during this period." Prof. al-Hileh also distinguished between e-learning concepts in general, and between institutions and students' prospective of distance learning.
When asked about universities' ability to overcome the challenges they have faced, Prof. al-Hileh answered, "MEU adopted a flexible strategy that allowed it to identify and resolve issues. We, for example, trained our faculty members on using the e-learning interface and established a communication line with our students to be on constant lookout for any technical issues they might face."
Prof. al-Hileh added, "MEU's faculty members were able to achieve their set objectives through distance learning. They were able to deliver quality information and interact with their students in a sufficient manner by setting assignments, directing students to additional resources and references, and discussing their findings and suggestions."
Prof. al-Hileh also noted that MEU plans to grant its students discounts up to 30% on credit hours for the summer semester of the 2019/2020 academic year, whether teaching was to be carried out on campus or through distance learning. The University made its decision in response to his Majesty's directions for citizens to stand together in light of the difficult circumstances Jordan and the world are facing.