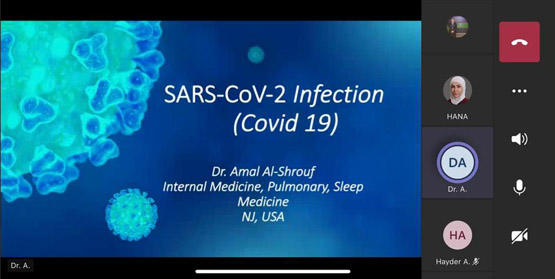 The Faculty of Pharmacy at Middle East University organised a lecture on COVID-19 on Saturday via MS Teams, as part of a series of initiatives to educate students and faculty on the global pandemic.
Dr Amal al-Shrouf, internist and pulmonologist, and consultant at the St. Joseph's University Medical Center, gave a lecture on the Coronavirus and the current global pandemic, starting from the virus' origins and the first cases to be detected in Wuhan, China, to the way it has spread around the world, the most common symptoms and the medicines currently being used to treat patients.
Dr al-Shrouf also touched on the international effort to develop a vaccine, pointing out that numerous pharmaceutical companies and laboratories are working tirelessly to put an end to this crisis.
The lecture was held as part of the Faculty of Pharmacy's Third Scientific and Education Season, which aims to raise students, faculty and administrative staff's awareness of the dangers of COVID-19 and keep them up-to-date with the latest developments. These lectures also introduce them to the ways they can protect themselves from contracting the virus, and allow them to connect with medical and pharmaceutical specialists.