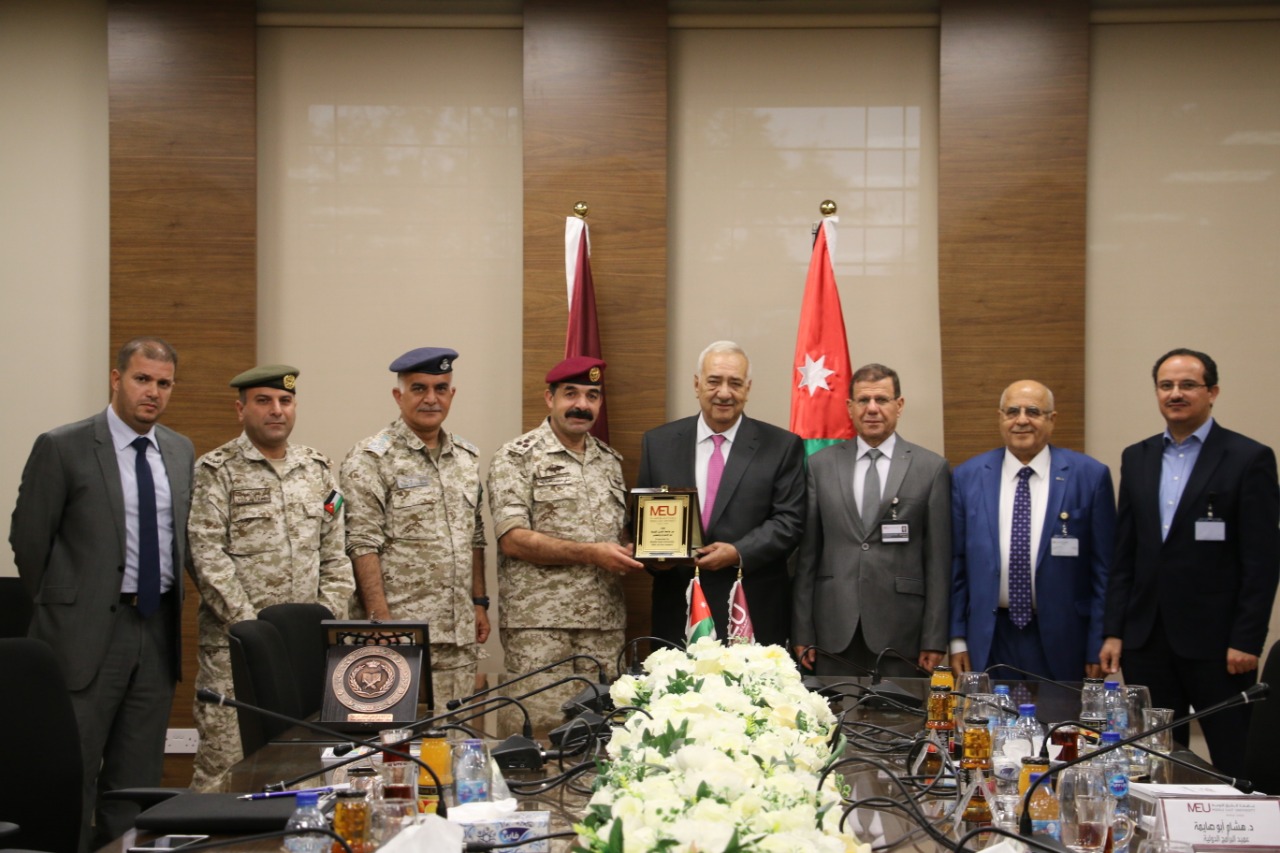 Amman – The University of the Middle East and the Royal Jordanian National Defense College have agreed to strengthen cooperation between the two countries, after the two sides signed a joint cooperation agreement in 2017.
This came during a joint working session held at the Middle East University with a delegation from the Royal Jordanian National Defense College, during which HE Dr. Yaqoub Nasser Al-Din, Chairman of the Board of Trustees of the Middle East University, praised the high level of the Royal Jordanian National Defense College in the fields of strategic sciences and employment. In achieving national goals.
Dr. Yacoub Nasser Al-Din said that the Royal National Defense College is considered a university on a regional level and is a source of pride for all of us as Jordanians, stressing that "the Middle East University is ready to provide all its capabilities to serve the college, we consider that serving the homeland, under the leadership of His Majesty King Abdullah II ELHussein".
During the meeting, which was attended by the President of the Middle East University, Prof. Dr. Mohammed Al-Hailah, his deputies and deans of faculties, and a number of senior officers of the Royal Jordanian College of Defense, he briefed the college on its programs, plans and future directions, expressing appreciation for the partnership with the University. The College invited the University to attend and participate in the courses, lectures and conferences held at the College, including the Amman Conference and Crisis Management Exercise.
The cooperation between the Middle East University and the Royal National Defense College includes research and academic cooperation, exchange of faculty members with the aim of learning about each other's expertise and experiences, providing joint lectures by disciplines, exchanging information and expertise, enhancing joint cooperation with scientific research, holding conferences, seminars and joint workshops, and exchanging publications. And the participation of students from both sides in conferences, seminars and workshops held by one side, and the use of scientific references available in the university library.
A number of students from the National Defense College attended a lecture on cybersecurity by Dr. Raymond Brown as part of the joint program between the Middle East University and the University of Bedfordshire.