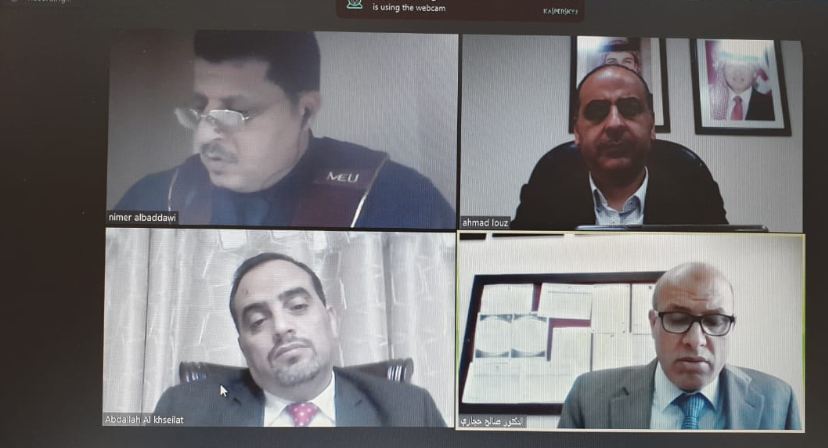 AMMAN – Researcher and Faculty of Law student Nimer al-Baddawi defended his Master's thesis, titled [crimes of a sexual nature committed online], via telecommunication. The research paper is considered the first of its kind to be conducted in the Arab world.
Supervised by the Dean of Law, Dr Ahmad al-Louzi, the researcher investigated online sex crimes and violations of morals and ethics. He also touched on the legal accountability for crimes of a sexual nature such as rape, indecent flirting and adultery. The problem statement focused on connecting personal behaviour with one's likelihood to commit sex crimes, as the researcher adopted the descriptive analytical method to achieve his objective.
The researcher found that there is a lack of specific legal provisions organising such conduct. He demonstrated the danger posed by social media if used to violate common morals and ethics. He reviewed the Jordanian legislator's position towards such acts being committed online, and how vital legislative and proactive measures are in limiting and combating such behaviours and misconducts.
The researcher recommended establishing or training an independent, specialised public prosecution to be present at every court and deal with such crimes. He also stressed the importance of passing more harsh penalties for people who commit online sex crimes, or any crime committed from behind the screens.
The thesis defence committee presiding over this project consisted of the Dean of Law, Dr Ahmad al-Louzi, as Mr al-Baddawi's supervisor and head of the committee, Dr Abdullah al-Khuseilat, as the MEU internal evaluator, and Dr Saleh al-Hijazi from Al-Ahliyya Amman University, as the external evaluator.