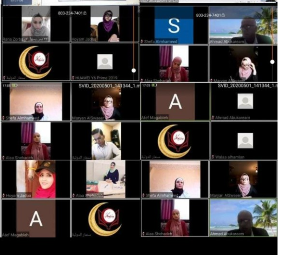 AMMAN – The Faculty of Educational Sciences at Middle East University organised a webinar on online learning and work pressure titled "Work Pressure in Light of the Coronavirus Pandemic". The webinar was organised in cooperation with Senmar Academy in an attempt to maintain communication with the local community and its members.
The webinar was presented by the Dean of Educational Sciences, Prof. Atef Maqableh, and Prof. Ahmad Abu Kareem. They discussed the work pressure teachers and administrates face at schools, and how students and teachers could meet the requirements of online learning. They also advised schools to follow-up with students and alleviate the psychological, social, and economic pressures faced by students and their parents by providing them with a supportive environment.
Dr. Maqableh and Dr. Abu Kareem addressed the work pressure teachers are currently facing, and how it negatively affects their behaviour. They also discussed the role of responsible and wise administrations in acknowledging the effects of the current situation on their teachers, and finding the adequate solutions. The attendees interacted with the professors and showed interest in the information they presented.
The webinar was attended by the principal and teachers of Senmar Academy, school students' parents, MEU students, and faculty members at the Faculty of Educational Sciences.