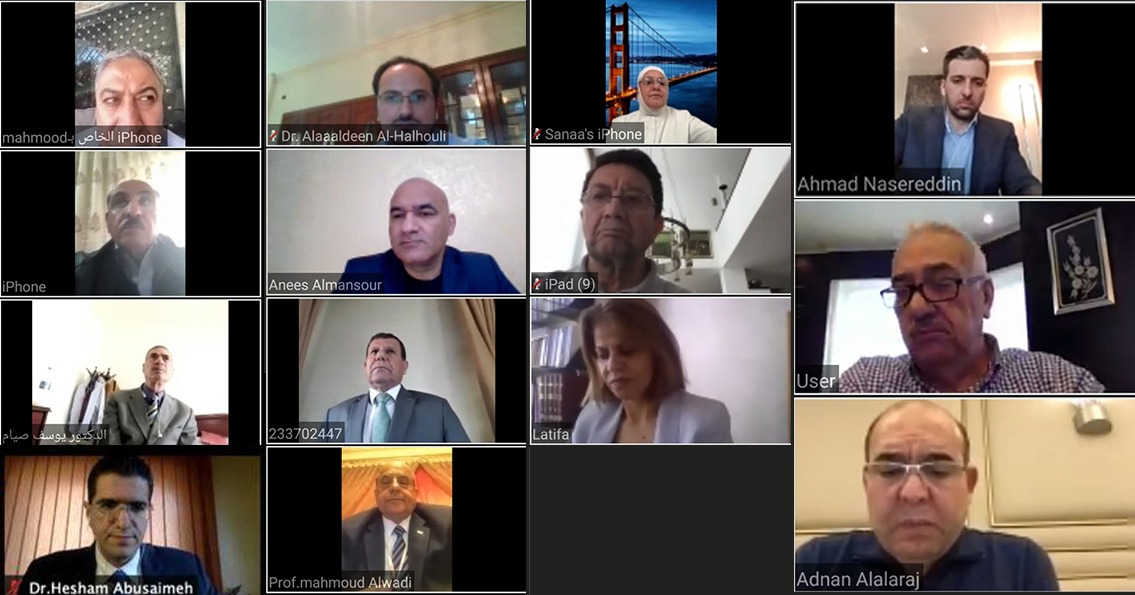 AMMAN – Middle East University's Board of Trustees, led by its Chairman Dr. Yacoub Nasereddin, met via teleconference in accordance with the Jordanian government's decision to carry out business affairs from remotely.
In this first meeting held via teleconference, the Board discussed a number of procedures and decisions designed to limit the damage inflicted due to the spread of COVID-19. The Board members stressed the importance of ensuring the continued success of the distance learning process for all courses offered this semester, and that this is being done in response to the royal directions in an effort to continue the educational process regardless of the unprecedented circumstances happening in Jordan and all around the world.
The Board members also discussed the progress being made in the implementation of MEU's emergency plan to combat the spread of COVID-19, and in MEU's adherence to both the Jordanian government's decisions and the Ministry of Health's instructions.
The Board members listened to the University President's, Prof. Mohamamd al Hileh give a brief on the developments being made in the distance learning process and the current plans being implemented to overcome these difficult circumstances. Prof. al-Hileh assured the Board that the distance learning system will remain active throughout the quarantine period following procedures that will ensure its highly successful continuity.
Prof. al-Hileh said, "MEU will dedicate all of its financial, technical, and administrative capabilities to ensure the success and continuity of the distance learning process." He added, "MEU was one of the first universities to deal with the dangers of the spread of COVID-19 by taking all the necessary measures to ensure the continuity of all operations."
The Chairman and members of the Board reviewed the latest results of the distance learning process, including faculty's responsiveness, their efforts to upload 100% of course material online, and students' responsibility towards completing their courses.
The Board members commended MEU's early response and the solutions it has presented to divert the effects of this crisis, whether by holding workshops for faculty members on how to use distance learning tools, educating students and the local community on the dangers of the novel Coronavirus through awareness campaigns, or by keeping the public up to date with all decisions being taken.