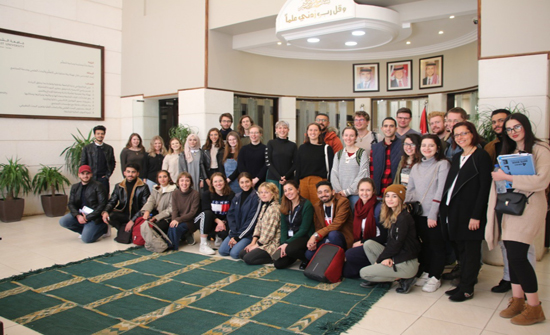 AMMAN – Middle East University (MEU), as represented by the Department of Student and Academic Exchange at the Deanship of International Programmes, welcomed a student delegation from the Australian National University (ANU) as part of an exchange programme designed to help hosted students practice the Arabic language. MEU's participation in this programme supports its efforts to foster cultural international exchange in an academic capacity.
Dr. Hesham Abusaimeh, the Dean of International Programmes, stated, "Visits like this one are a part of the comprehensive programme system which is facilitated and supervised by the Department of Student and Academic Exchange at the Deanship. These efforts help MEU to realise its vision of expanding the horizons of cooperation in the field of academic exchange, and allows us to benefit from these unique experiences of partnering with such prestigious international universities." MEU believes that establishing such cooperative relationships will help the University and its students keep up with the latest advancements in academia and applied research.
The 23 ANU students will be in Jordan for one month, and during their visit, they will participate in training workshops and partake in detailed presentations where they will present on the diversity of Australian society. The ANU students will also attend lectures given by MEU faculty members on the basics of the Arabic language.
ANU is currently the top university in Australia, and is ranked number 22 on the QS World University Ranking.
The Department of Student and Academic Exchange employs the University's strategy of establishing a line of communication with other institutions and universities from all over the world to give MEU students the opportunity to benefit from the experiences of their international counterparts, and provide them with a platform for cultural exchange. In pursuing such endeavours, the Department helps uplift the quality of education available in the Kingdom, and in turn helps in realising the royal vision and addresses this point of focus as emphasised by both Ministry of Higher Education and Scientific Research and the Accreditation and Quality Assurance Commission for Higher Education Institutions.