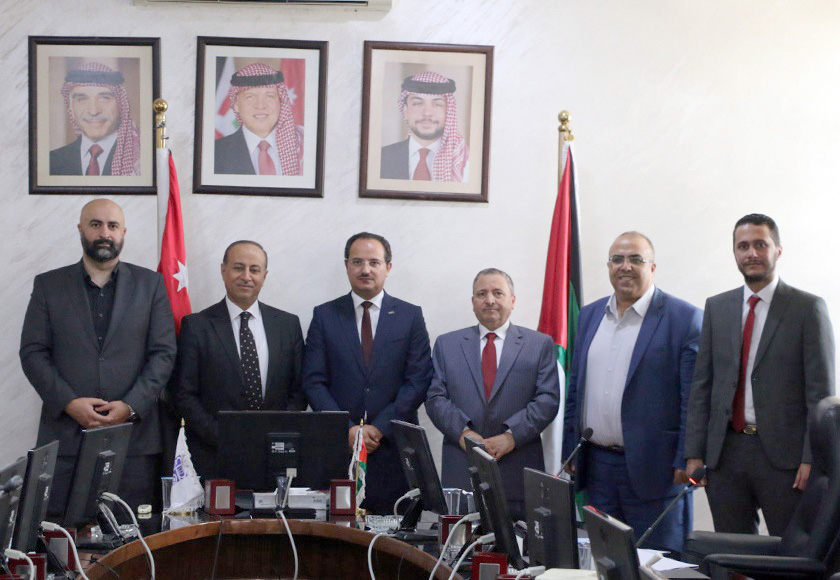 AMMAN – Middle East University signed sponsorship agreements for two research papers it has submitted to the Exceptional Research Cycle, titled 'The Coronavirus in Jordan: Impact and Solutions', organised by the Research and Innovation Fund at the Ministry of Higher Education and Scientific Research.
The Fund received the researchers who were awarded the sponsorship agreements at a signing ceremony it held under the patronage of its Acting Director, Dr Waseem Halaseh.
The first sponsorship agreement was signed by the Acting President of MEU, Dr Ala'aldeen al-Halhouli, for his research paper titled 'Diagnosing Severe COVID-19 Cases in House Quarantine Using Wearable Sensors and the Internet of Things', which he conducted in the field of engineering and nanotechnology.
The second sponsorship agreement was signed by the Director of the Business Incubator Unit at MEU's Innovation and Entrepreneurship Centre, Eng. Ali Husni al-Ghosain, for his research paper titled 'Corporates' Role in Mitigating Economic Deterioration during the Coronavirus Crisis by Employing Know-hows and Resources', which he conducted in the field of human, social and economic sciences.
The Fund recently elected five research projects for sponsorship, two of which were submitted on behalf of MEU. The two research papers were selected amongst 58 research projects on COVID-19 response, submitted by researchers from 20 Jordanian universities. The Fund's dedicated academic and scientific committees reviewed the submitted projects and provided funding for those that met the set requirements and conditions.