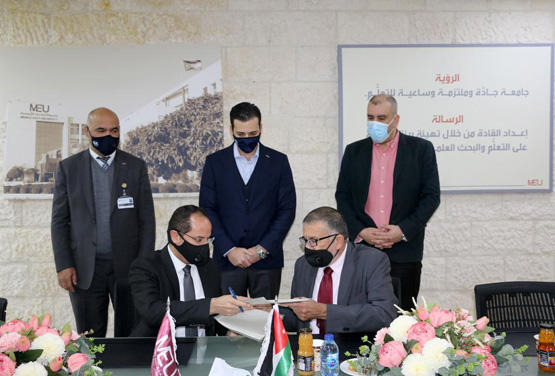 Middle East University, as represented by the University President, Prof. Ala'aldeen al-Halhouli, signed a joint cooperation agreement with Adaptive TechSoft, stipulating the development of the university's integrated system.
The agreement specified developing an integrated system that will allow the university to computerise its operations, in addition to training the university's personnel on using and activating the said system. The university's administration found it necessary to sign the agreement at hand considering the current circumstances the world is facing due to the spread of COVID-19, which demanded a full dependence on online learning and a switch to remote work. The university is also looking to develop its decision-taking processes regarding administrative matters by utilising business intelligence.
During the signing ceremony, Prof. al-Halhouli said that MEU is keen on establishing fruitful partnerships with a wide-range of sectors, considering that such partnerships are bound to advance the university's academic and administrative performances, and provide students with opportunities to develop their skills and capabilities. The signing ceremony was attended by the Vice Chairman of the Board of Directors, Dr Ahmad Nasereddin, and the Vice President for Administrative and Legal Affairs, Prof. Anees Mansour.
The Manager of ATS, Dr Mustafa Yaseen, applauded MEU's constant lookout for development and enhancement opportunities, and commended it for its glowing academic reputation and the high-level at which it's operating.
Adaptive TechSof is a leading company in the development of integrated systems and applications to meet market needs in the area of information technology by providing integrated solutions to manage businesses and run operations in the education and health sectors.