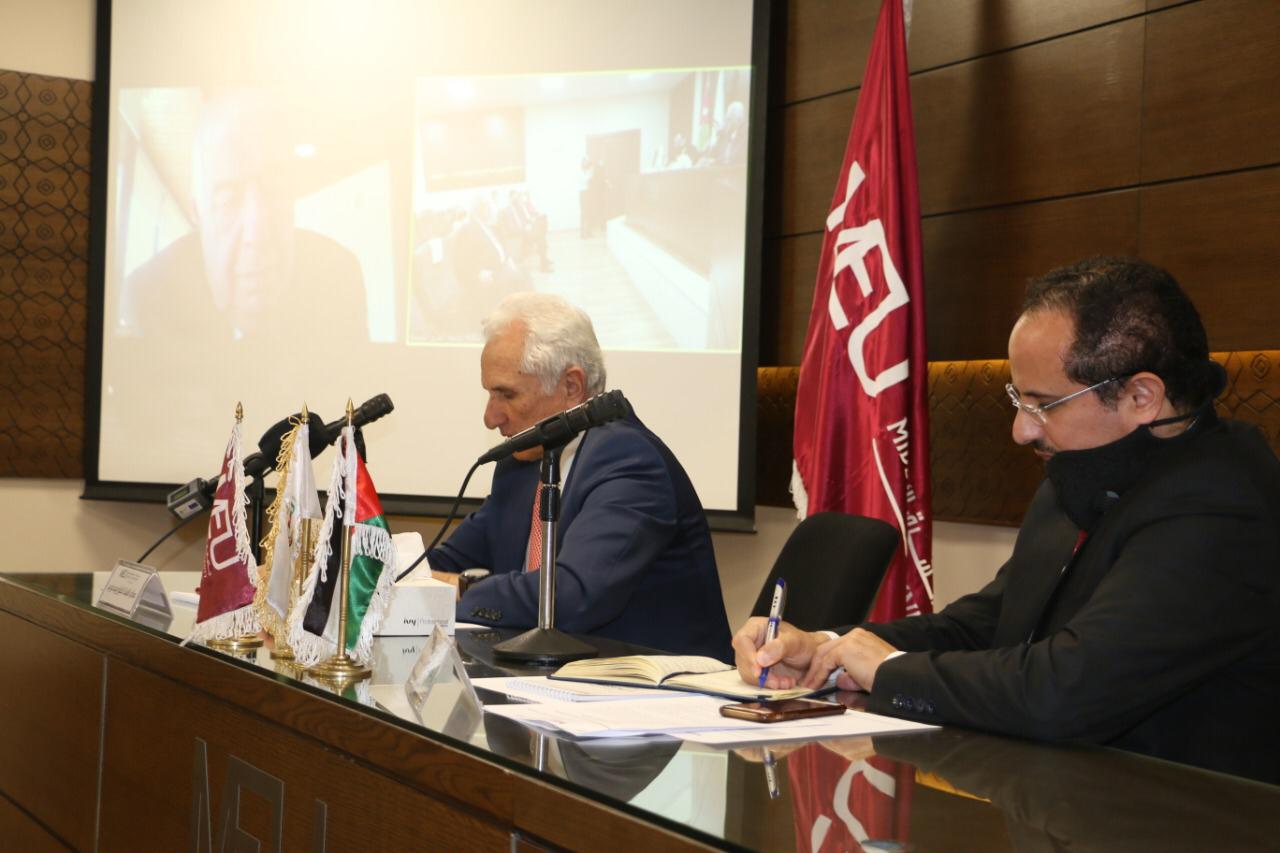 Under the Patronage of Prof. Ala'addin Al Halhouli, Middle East University organized a seminar on Modern Challenges and Future Outlook to Higher Education in Jordan, where Dr. Ameen Mahmoud, Former Minister of Higher Education and Scientific Education, and in the presence of Dr. Yacoub Nasereddin, Director of the Board of Trustees, and Dr. Ahmad Nasereddin, Vice Chairman of the Board of Directors, and a body of faculty deans.
Dr. Ameen Mahmoud pointed out that kindergarten is the basis of education and it is important to raise its level and readiness in order to create a generation that is aware of its responsibilities and educational life and in school. He also added that reform requires a clear political well and vision for the future, while creating a competitive environment between universities paved with creativity and innovation. He explained that reform in school and higher education faces several problems and diverse issues in light of the absence of coordination among stakeholders; a process often disturbed with ambiguity and the abundance of specialized and non-specialized theories in this area.
From his side, Former Minister of Higher Education Scientific Research, said it is important to come up with modern specializations in artificial intelligence, being the modern source of interest all over the world, by creating convenient infrastructure and providing human resources qualified for teaching those specializations.
Dr. Owais also said that everyone is responsible for the transformation process in education, confirming the importance of having role models for students and focusing on that in the educational process. He also made reference to the exhilarating development Middle East University is witnessing, especially in information and e-learning technologies.
Dr. Yacoub Nasereddin, Director of the Board of Trustees also said that we are suffering in Jordan from the situation of education as not being considered an important priority for governments, especially the last five governments, which has caused a great gap between education in Jordan and its exhilarating development in some countries in the region and around the world.
He added that it is necessary for the government, on all its levels, to work diligently to develop education, and to restructure our traditional culture of interest in only receiving a university certificate. He said that it is necessary to encourage technical and vocational teaching in order to be prepared for future challenges, since the problems that exist in education were already diagnosed and solutions were created, except that necessary reform has been carried out as yet.
He demanded amending the Civil Service Law within a framework that determines priorities in the job market, as well as connecting one aspect of employment mechanism with the practical skills of individuals, not only their academic certificate. He also said it is important to proportion wages to economic inflation and focus on enhancing the main performance of employees by connecting incentives and raises to the vocational performance, which will be reflected on performance and the quality of services provided to students.
Prof. Ala'addin Al Halhouli, from his side, concluded that there is a close link between the two types of education in Jordan, and that this seminar is aimed at discussing essential steps to advance education in Jordan, in light of the educational reforms being taken in Jordan at a fast pace. All programs offered at MEU, he explained, were created in alignment with technological development, including programs linked to artificial intelligence such as Financial Technology and Business Intelligence, and that MEU will continue its efforts to achieve its vision for a smart, advanced environment.