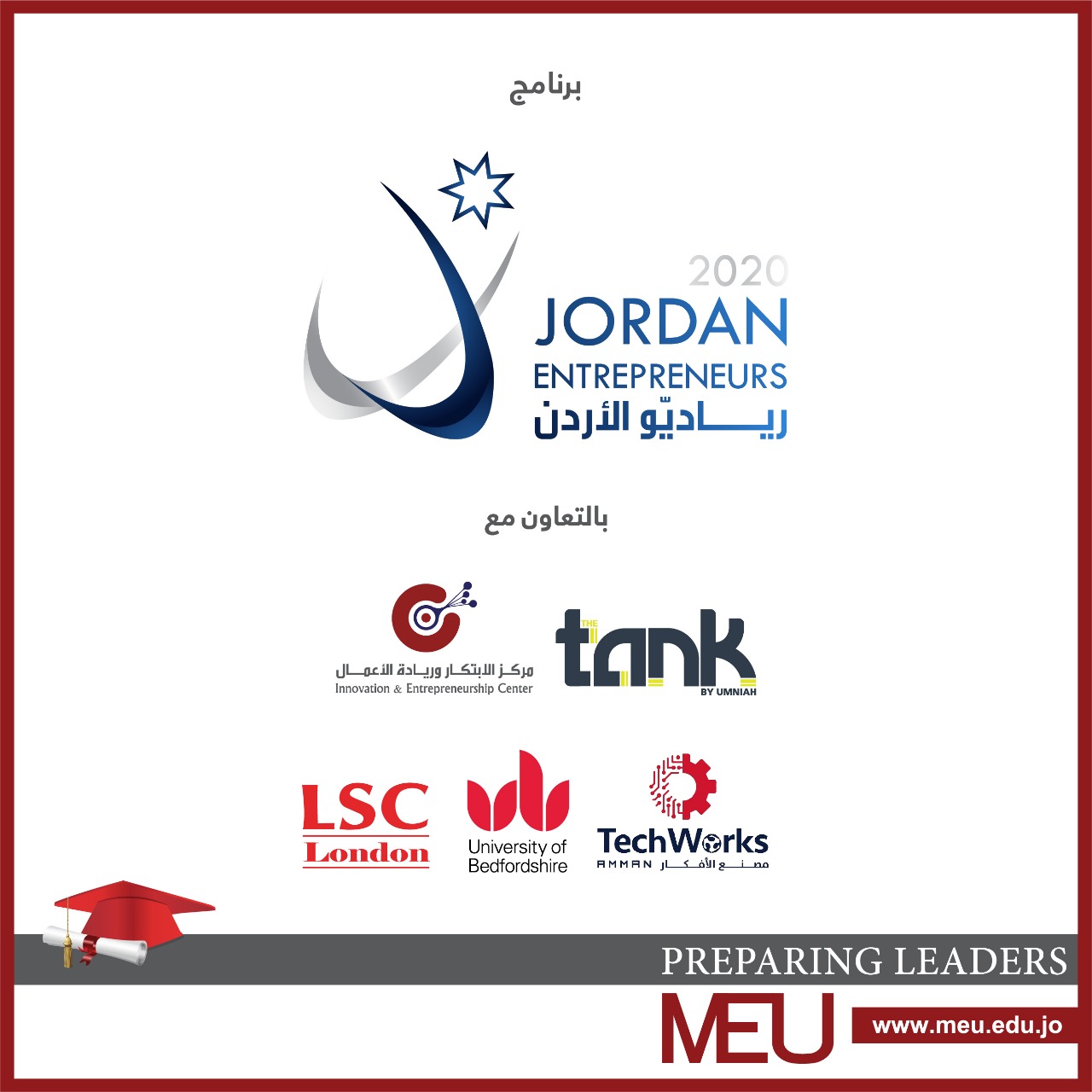 AMMAN – Middle East University, represented by the Innovation and Entrepreneurship Centre (IEC), inaugurated the Entrepreneurs of Jordan 2020 programme in cooperation with the University of Bedfordshire – Jordan, Umniah's business incubator The Tank, and TechWorks. The programme is set to be the first of its kind ever held at a Jordanian university.
Prof. Mohammad Al Hileh, the University President, said, "Through launching this programme, MEU aims to uphold his Majesty King Abdullah II bin Al Hussein's vision for supporting innovative and entrepreneurial youth." He also added, "The programme is designed to endorse the entrepreneurial projects submitted for consideration by Jordanian university students and members of business incubators. MEU aims to sponsor these ambitious projects and help them become successful business ventures. We look to integrate the culture of entrepreneurship into the bedrock of our society and encourage students to take on the challenges of freelance work while learning how to best invest their time and resources. Our ultimate goal is to help students provide innovative solutions to our nation's problems by investing in non-traditional projects that show promise."
Dr. Abdelrahman Zuraik, the Director of IEC, stated, "Entrepreneurial projects submitted to the programme will be evaluated for their creativity, profitability, and ease of execution. The ten most inventive and economically feasible projects will be introduced to a network of interested investors. These projects will be awarded a sum of 100,000 JODs to be split between them in order to fund the full-scale execution of their proposals." He elaborated, "The innovators behind the top three projects will be awarded the 'Entrepreneurs of Jordan 2020' title and given an honorary shield. They will be sponsored by Umniah's business incubator 'The Tank', and will receive a share of the allocated funds to back their project investments. The runner-up projects will be awarded certificates of honour. MEU and the University of Bedfordshire will also work together to train and support the runner-up project owners."
The deadline for accepting applications is February 10, 2020, and the 30 projects that are chosen to compete in the programme will be announced on February 15, 2020. The programme will include training workshops for the owners of the qualifying projects at The Tank headquarters, and the final competition and award ceremony will be held at MEU.