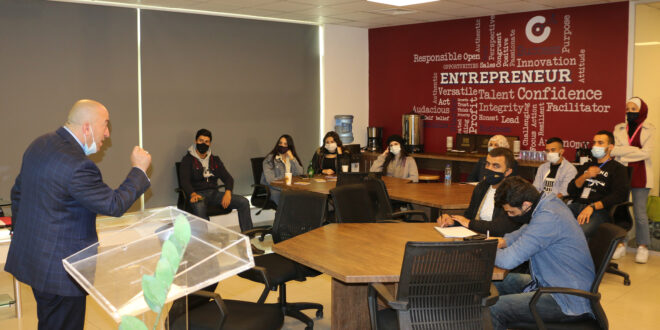 The Middle East University students who are participating in this year's Hult Prize challenge attended a training workshop on how to conduct a feasibility study. The workshop was carried out by Dr Mohammad Othman, a faculty member at the Faculty of Business, who guided the attending students through the ins and outs of pitching their projects to potential investors.
The workshop was held at the Innovation and Entrepreneurship Centre on the MEU campus under strict health and safety measures, and with consideration to social distancing requirements. The participating teams were sure to benefit as much as possible from the information and expertise transferred to them during the workshop.
The Hult Prize coordinator at Middle East University, student Nour Abu Khadra, said that students are quite excited to work on their ideas for this challenge. She highlighted that the organised workshops witnessed wide, intense discussions that prove their keenness on learning the skills they are going to need throughout the competition, as some were new to the field of innovation and solutions.
Abu Khadra added that the workshop introduced the teams to new concepts such as project funding, risks and expense management. She expressed her gratitude towards the organising committee for preparing a comprehensive programme to support the participating students, in cooperation with the MEU faculty and the Deanship of Student Affairs, saying that these workshops and everyone's efforts are bound to bring them closer to realising their dream of winning the competition.
The Dean of Student Affairs, Dr Saleem Sharif, said that the university encourages students to participate in major competitions such as the Hult Prize, as it believes they allow students to open up to different worlds and operate outside of their fields. He also highlighted the importance of engaging students in a competitive atmosphere where they learn time management skills, adapt to working under pressure and acquire other qualifications vital for their future success.
The Hult Prize Foundation is the largest entrepreneurial youth organisation for MBA and college students all around the world. It focuses on creating a positive impact on communities by presenting entrepreneurial solutions and ideas to solve pressing issues. The Hult Prize invested more than 50 million dollars in capital to fund innovative youth, and recruited nearly one million young men and women to rebuild the future of entrepreneurship.