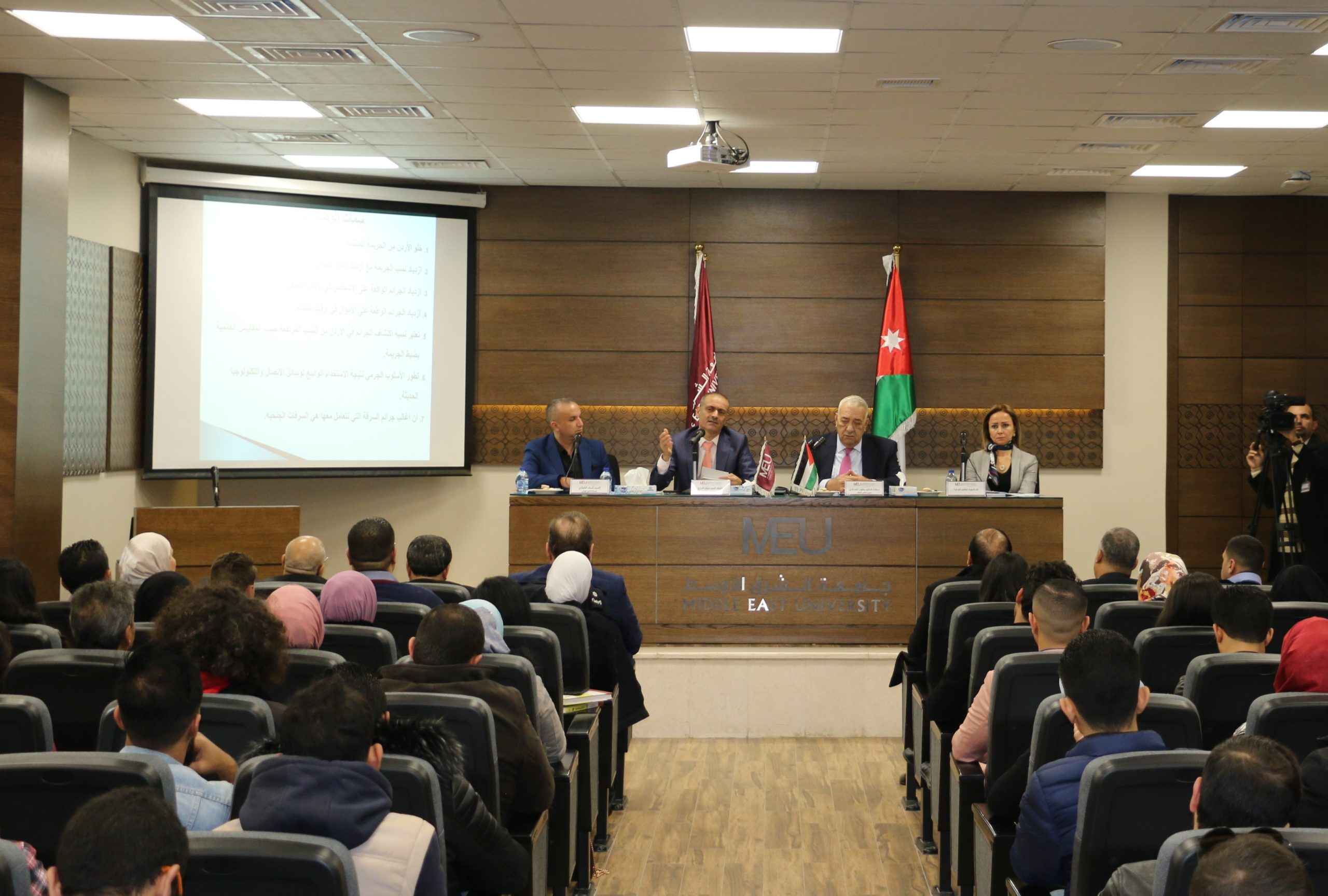 AMMAN – Middle East University hosted a discussion seminar titled "Public Safety: Between Theory and Practice". The seminar was organised by the Friends of National Security in cooperation with the Criminal Investigation Unit, MEU, and the Jordanian Youth Commission.
Speakers at the seminar included the Director of the Criminal Investigation Unit Brigadier General Marwan Al Hyari, the Chairman of MEU's Board of Trustees Dr. Yacoub Nasereddin, and Dr. Niveen Abu Zaid, an expert in educational psychology. The seminar was given by Mr. Ashraf Al Kailani, the General Manager of the Friends of National Security, and was attended by a number of MEU's faculty members and students, in addition to a number of public security officials and representatives of the local community.
Mr. Al Kailani presented an overview of the seminar, and is the first of a series of seminars that the Friends of National Security will organise in cooperation with various entities concerned with public safety. This seminar was also designed to prepare for the launch of national strategies that aim to promote public safety, as previously announced by H.E. Faisal Al Fayez, the President of the Senate.
Brigadier General Marwan Al Hyari, the Director of the Criminal Investigation Unit, discussed the practical aspect of public safety, remarking, "The Unit exerts all efforts to maintain public safety in Jordan, and combats crime by adopting preemptive mechanisms and spreading awareness. The Unit aims to do so by sharing accurate statistics on crimes rates in Jordan."
Dr. Yacoub Nasereddin discussed the theoretical aspect of public safety and its importance in maintaining the social system of any country, as public safety is imperative for positively affecting a nation's security and stability. He also pointed out the significance of teaching public safety techniques as part of standard Jordanian curricula, stating, "This event is one of the many ways in which MEU fulfills its responsibility towards society by helping to establish a general social philosophy capable of protecting our country and national resources."
Dr. Niveen Abu Zaid highlighted the connection between psychological security, public safety, and the importance of positive educational behaviour in raising the coming generations and promoting a spirit of teamwork and cooperation in order to achieve the ultimate goal of public safety.
At the end of the seminar, a discussion took place between the speakers and attendees where questions and inquiries were answered.