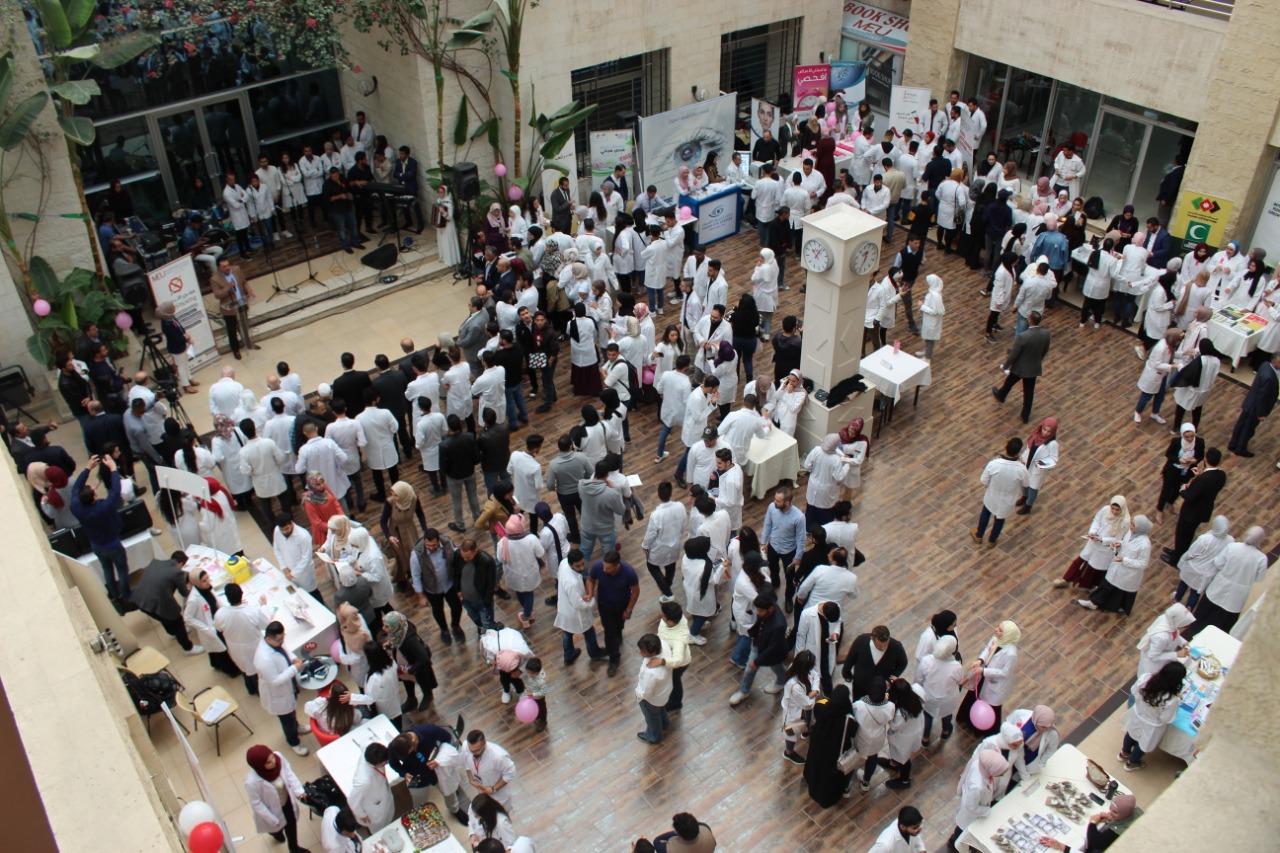 AMMAN – The Deanship of Student Affairs at Middle East University organised a Healthcare Day in cooperation with the Faculty of Pharmacy and the Jordan Pharmacists Association (JPA). This event was organised to serve members of the local community and included a number of voluntary initiatives that were designed to raise students' and parents' awareness of issues related to the importance of healthcare.
Dr. Zaid Al Kailani, the Head of the JPA, stated, "MEU and its Faculty of Pharmacy have supported the pharmaceutical and medical sector greatly through organising many events of this nature." The event's opening ceremony was attended by Dr. Ahmad Nasereddin, a member of MEU's Board of Trustees, Sergeant Nabil Al Rawashdeh from the Anti-Narcotics Department, the Dean of Pharmacy Dr. Ammar Al Maaytah, the Dean of Student Affairs Dr. Ma'moun Al Huneiti, and other vice presidents and faculty deans.
Mr. Nouraddin Al Amawi, the Head of the Department of Student Activities, also remarked on the success of this event, saying, "Organising events like this one allows MEU to maintain its positive relationship with the entirety of its community by offering free medical services."
Sergeant Al Rawashdeh commended the University for its role in serving their local community and emphasised, "The Anti-Narcotics Department works in cooperation with local community institutions who are willing to help, much like MEU is, to combat the negative outcomes of drug abuse and its disastrous effects on the lives of many. This policy is ardently followed by the Public Security Directorate."
Various diagnostic tests were provided to attendees for free during the Healthcare Day, including tests for a multitude of illnesses and disorders ranging from the ophthalmological to the orthopedic to even the dermatological. Medical pamphlets were also distributed as part of the event to spread awareness of the importance of healthcare.
The University's goal in organising such events is to achieve its vision for the future of professional pharmacy, and it is this vision that led to the University's establishment of a joint British pharmacy programme with the University of Strathclyde.