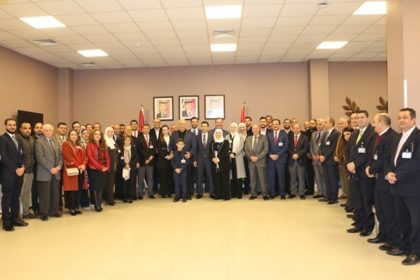 AMMAN – Middle East University congratulated Dr. Mohammad Yacoub Nasereddin on obtaining a PhD in Civil Engineering with a ceremony organised under the patronage of the Chairman of MEU's Board of Trustees, Dr. Yacoub Nasereddin. He obtained his degree at Loughborough University in the UK, and was awarded a scholarship to pursue his studies by MEU.
Prof. Mohammad Al Hileh, the University President, said, "MEU looks to continue awarding scholarships to its academically-gifted students in order to support them as they obtain the highest awarded degrees from prestigious international universities." He also added, "The University is committed to its mission of evolving its students' skills and capabilities and providing them with novel academic experiences, which in turn serves the development of Jordanian society."
Dr. Mohammad Yacoub Nasereddin obtained his Bachelor's and Master's degrees in Civil Engineering from Coventry University in the UK, and was appointed as the Head of Graduate Student Researchers at MEU.
MEU regularly awards scholarships to its outstanding graduate students while they attend British, French, American, Malaysian, and Canadian universities to widen their knowledge and expertise. The University also constantly encourages them to exert more effort into advancing the state of Jordanian higher education.