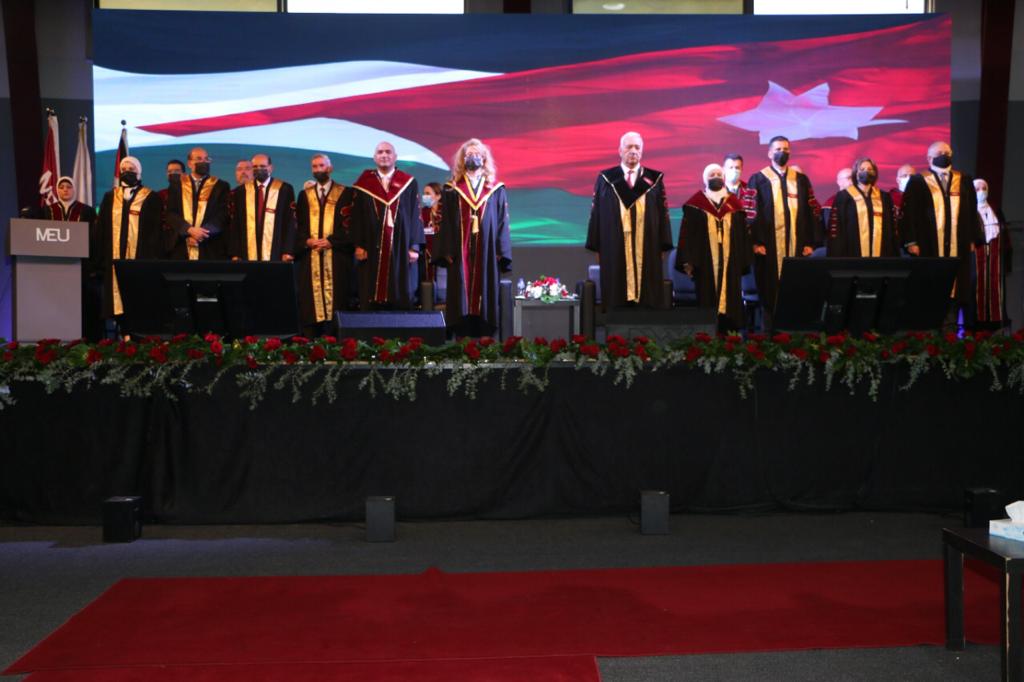 MEU Chairman of the Board of Trustees, Dr. Yaqoub Nasser El-Din, sponsored the graduation ceremony of the "Jordanian State Centenary" cohort students for the academic year 2020-2021 on the University campus, in the presence of the Board of Directors headed by Dr. Sana Shaqwara, members of the University's Board of Trustees, the Acting President of the University, the Deans' Council, faculty members, the graduates' families, and a number of local community leaders.
During the ceremony, Dr. Nasser El-Din said that the university worked hard to provide an advanced educational climate that keeps pace with global changes, and is consistent with the needs of the labor market, adding that this was achieved by embracing a number of bachelor's, master's, and doctoral programs in the most prestigious British universities: the University of Bedfordshire and the University of Strathclyde.
In her speech, the Acting President of the University, Prof. Dr. Salam Khaled Al-Mahadin, praised the University's philosophy that placed it in the ranks of international universities, adding that the University focused on providing a cognitive space of integrated elements and dimensions for its students.
In the graduates' speech in both Arabic and English, the students thanked the University for the exerted effort that brought them to this important stage of their lives. It is considered to be as the starting point for the journey of building the future and achieving ambitions.