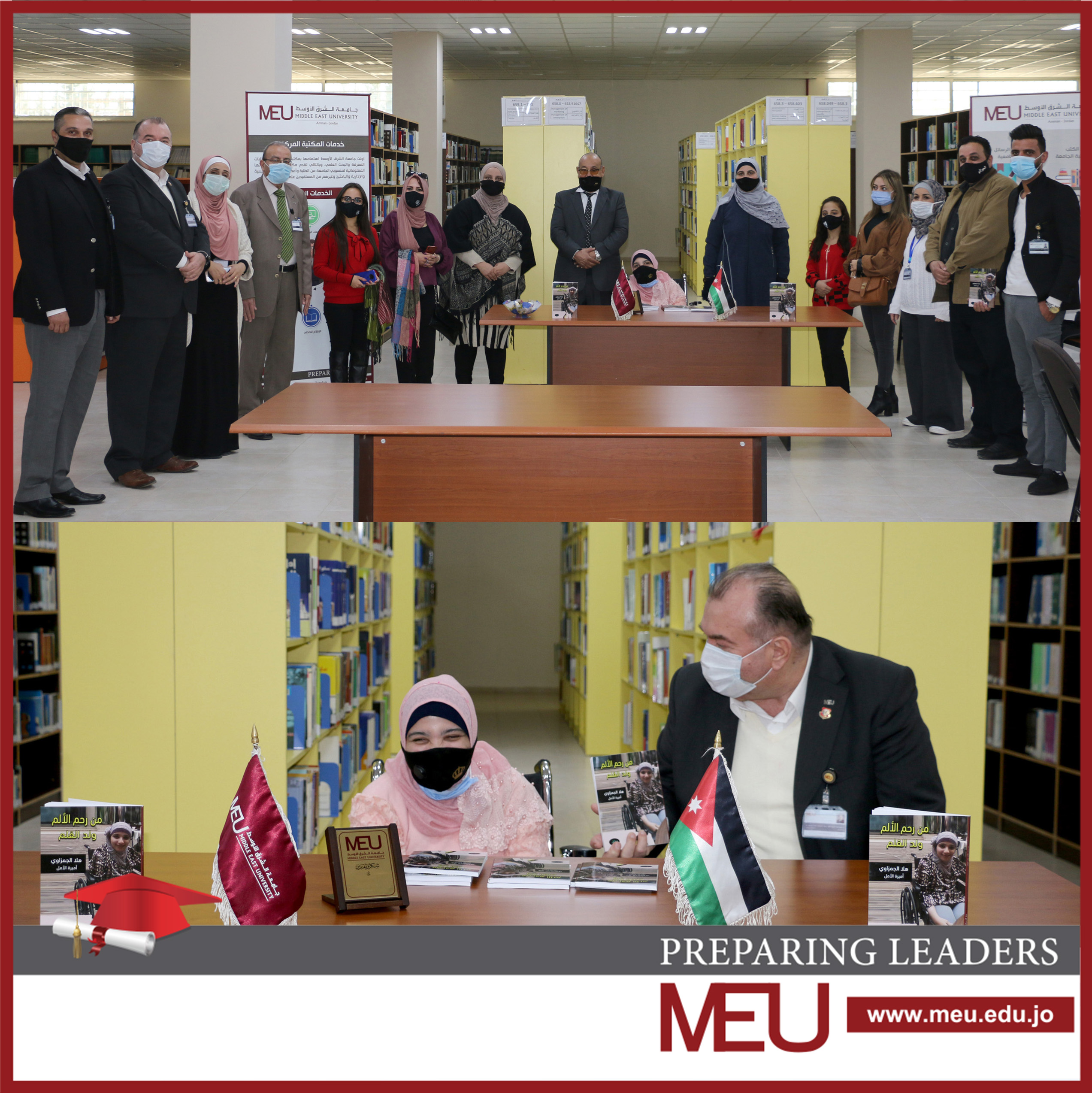 Middle East University organised a book launch at its library for [Suffering Births Creativity] by author Hala aj-Jimzawi, under strict health and safety measures. In her book, the author touches on her experience in overcoming the challenges she faced, and still faces, as a person with special needs.
The event was held under the patronage of the Dean of Student Affairs, Dr Saleem Sharif, who spoke about Ms aj-Jimzawi's creative journey and steadfastness in the face of adversity. He praised her determination to succeed in transferring her experience to others, specifically persons with disabilities.
Dr Sharif said that Ms aj-Jimzawi was able to move her readers from her wheelchair with her exceptional writing skills, and prove to the world that 'despair is our chance to wrestle with fire and come through.' He added that this time around, the university's initiative did not solely stem from its commitment to uphold its social responsibility, but also from his personal relationship with Ms aj-Jimzawi that allowed him to witness her perseverance and support her in her endeavour. He recalled how Ms aj-Jimzawi taught him that believing in ourselves and our ability to realise our dreams is the main driver of creativity that could never be halted no matter how complicated our circumstances.
Dr Sharif stated that Ms aj-Jimzawi's creative works are not only meant for persons with disabilities, but can be picked up by any person who wishes to cleanse their soul of despair and widen their outlooks on life. He highlighted that her works' existential nature touches readers' minds and souls for they are based on a true experience and genuine quest to spread hope and joy.
The Assistant to the Dean of Student Affairs, Dr Sani Khasawneh, said that Ms aj-Jimzawi's experience is worth all the attention it could get, for it expresses the hopes of an entire group of young men and women. She added that the only difference between her and her peers was that she decided to achieve distinction and make a name for herself by writing this authentic and heart-felt work. She also pointed out that the book will be available at the university's library, which is proud to host such a talented and strong-willed artist.
Ms aj-Jimzawi and her family, who attended the book launch, expressed their gratitude towards the university for this gesture, while the author especially thanked the Deanship of Student Affairs for their exceptional efforts. Ms aj-Jimzawi was presented with MEU's honorary shield in appreciation of her talent and determination.
The event was organised as part of MEU's efforts to uphold its social responsibility and support persons with disabilities by interacting and maintaining communication with all groups of its local community.