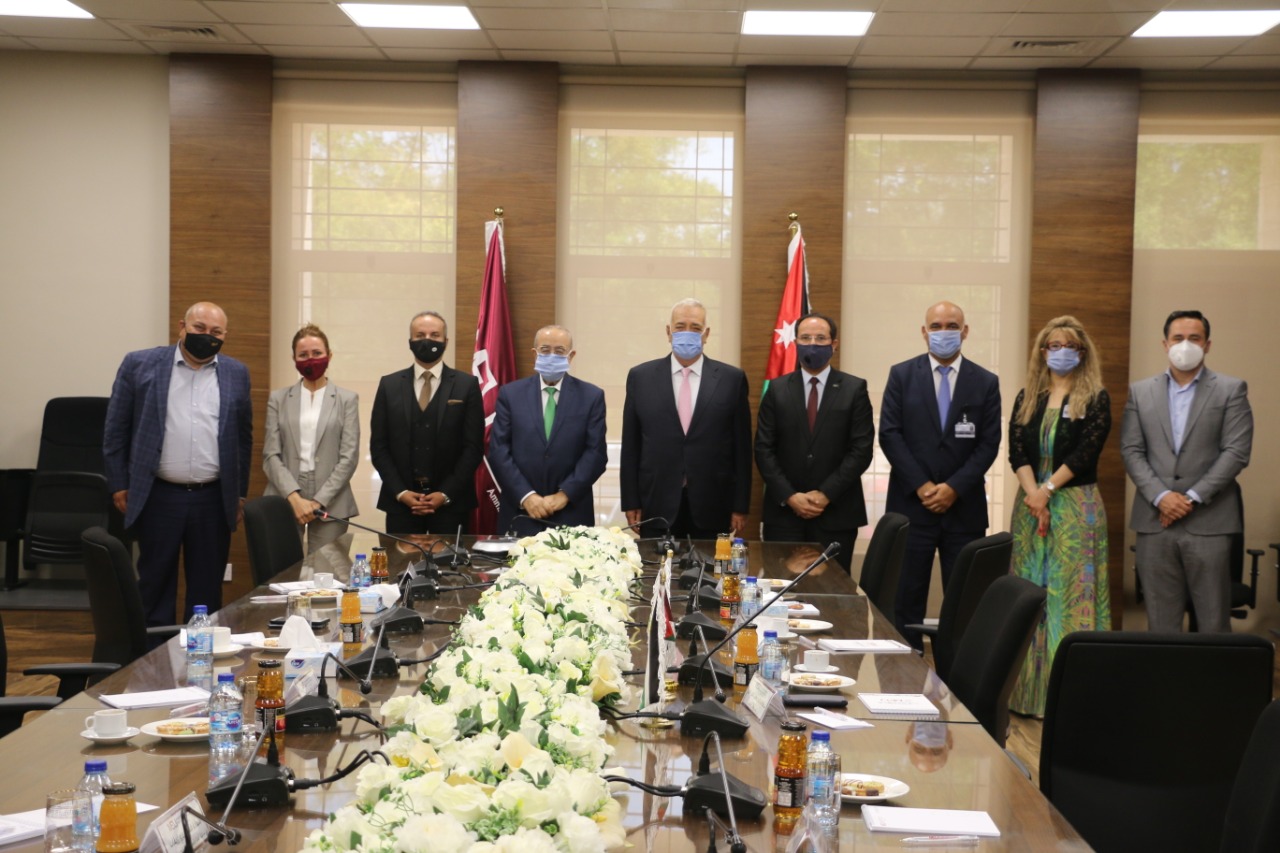 AMMAN – Middle East University signed a memorandum of cooperation with the Jordanian Healing and Health Bank stipulating the implementation of health programmes, projects and initiatives targeted at all groups of the Jordanian society. The two parties also aim to raise MEU students' awareness of health issues.
The MoC was signed by the Acting University President, Prof. Ala'aldeen al-Halhouli, and the Chairman of JOHHB's Board of Directors, Mr Ashraf al-Kailani; with the attendance of the Chairman of MEU's Board of Trustees, Dr Yacoub Nasereddin, and the Head of JOHHB's Advisory Council, Senator Dr Yousef al-Qsous.
Dr Nasereddin spoke during the signing ceremony, expressing his delight with the close and fruitful relationship between MEU and JOHHB. He said, 'The University's strategic plan entails supporting local institutions and national initiatives. Therefore, we are always on the lookout for opportunities and windows to implement charity, social and service programmes that benefit all groups of our community'.
Senator Dr al-Qsous expressed his gratitude towards MEU's administration's warm welcome and commended the University for its unique programme offerings and the social activities it organises to develop its students' skills and capabilities in all fields, especially health-related issues, being now the main concern of all nations due to the Coronavirus pandemic.
Dr al-Halhouli called attention to MEU's ceaseless efforts to grow and expand on its students' potentials by implementing extracurricular programmes and activities. He also highlighted the University's role in serving local community members by showing interest in their capabilities and talents, and educating them on chief health issues in light of the current epidemiological status.
Mr al-Kailani said that the MoC came to fruition upon MEU and JOHHB's successful cooperation to execute a series of joint health programmes, the chief of which was the 'Healing Partners' programme that was carried out by MEU students.
Mr al-Kailani also praised the University's keenness on raising its students and staff's awareness of health issues, and its understanding of how vital the role awareness plays in our current fight against the Coronavirus outbreak.
The General Director of JOHHB, Dr Niveen Abu Zaid, shared the Bank's work strategy, which is based on networking and partnering with government, health, social and educational institutions in the aim to develop its services and achieve health security in Jordan.
At the end of the signing ceremony, Dr Nasereddin presented JOHHB's management with the University's honorary shield, and a group picture was taken to commemorate the event.