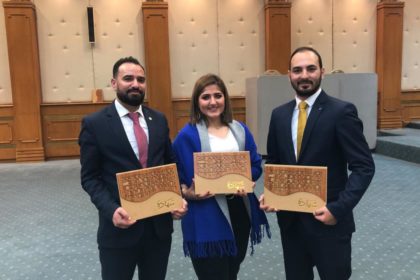 AMMAN – Middle East University, the National Forum for Awareness and Development, and the National Youth Conference honoured a group of high achievers under the patronage of the Minister of Youth Dr. Feras Al Breizat on behalf of H.E. the Prime Minister.
In a speech given during the ceremony, Dr. Al Breizat stated, "The national strategy for supporting the youth mainly focuses on creating programmes that teach them the skills they need to withstand any economic challenges they may face in today's financial climate as they establish entrepreneurial projects." The ceremony was also attended by a number of MEU's alumni, and MEU's Master of Ceremonies, Mr. Amjad Al Kraimeen from the Faculty of Media.
At the end of the ceremony, Dr. Al Breizat honoured the high achievers and leaders dedicated community service in attendance, including MEU alumni Bassant Zaidan from the Faculty of Media and Tal'aat Shehaltough from the Faculty of Business.
The conference ended with a number of extended discussions between students, faculty members of public and private universities, and a number of youth associations. These discussions covered topics including a variety of issues and challenges facing today's young people, such as the current threats to the region's security and their effects on Jordan's social and economic state and security.