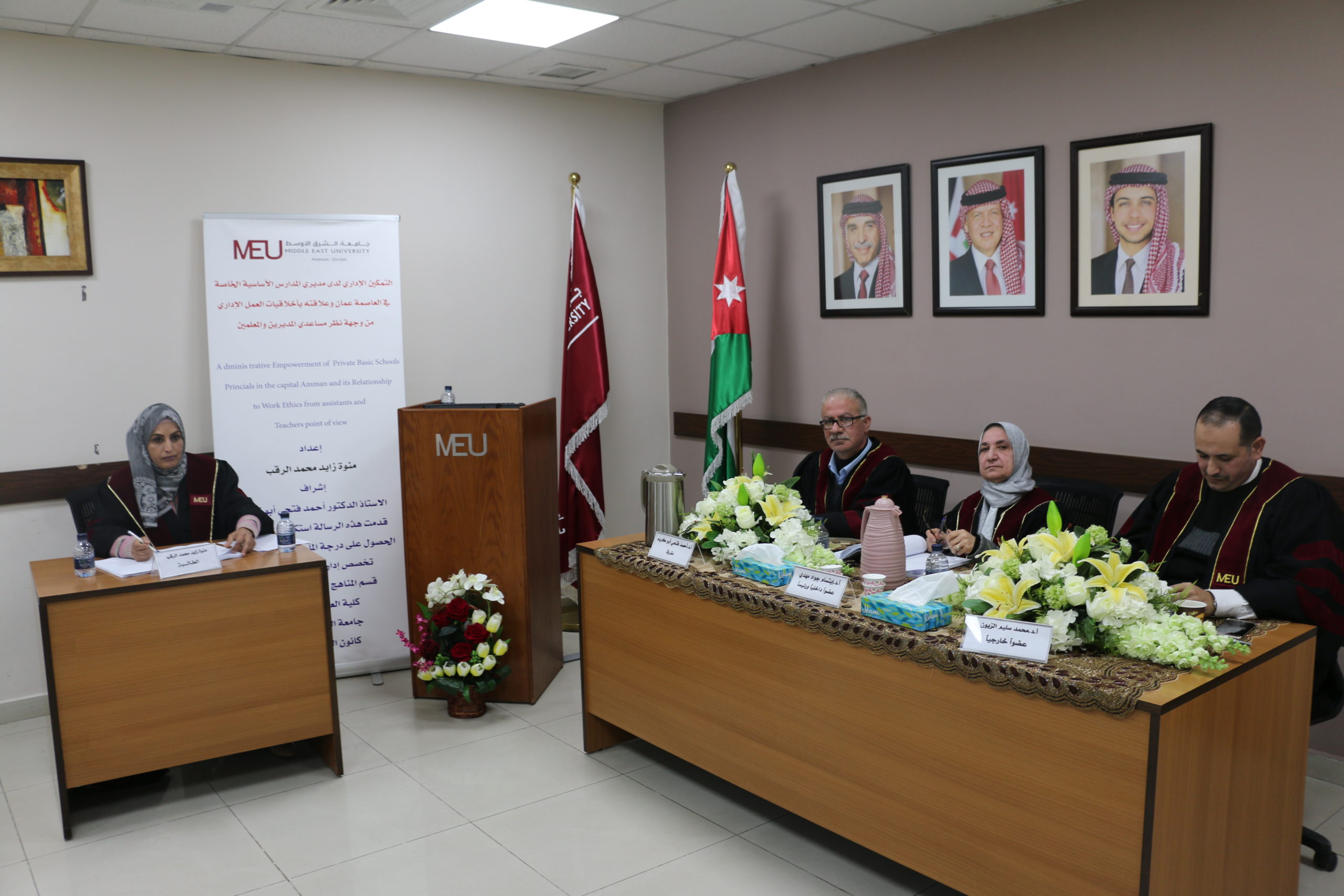 AMMAN – Researcher and Faculty of Educational Sciences student Manoura Ziyad Mohammad Raqab defended her thesis, "School Principals and Administrators' Views on the Relationship between Empowering Elementary School Leadership and the Increase in the Observed Positive Work Ethic".
In pursuing this research, Ms. Raqab's goal was to define the degree to which providing elementary school administrators with support affected the work ethic employed by teachers through studying private elementary schools in Amman, Jordan.
Using descriptive correlative data analysis methods, the researcher collected data from 433 administrative assistants and teachers working at private elementary schools throughout the first semester of the 2019/2020 academic year.
The results of the study demonstrated that these individuals rated the degree of administrative empowerment they experienced and observed at an average of 3.19, and rated the work ethic they observed being applied at their school at an average of 3.73.
Based on these results, Ms. Raqab concluded that school administrations should focus their policies on enhancing the degree to which they empower administrators  and reward educators and employees who have demonstrated a high work ethic in order to maintain their positive performance, as doing so creates a mutual trust between teachers and administrators that will promote positive outcomes.
The thesis assessment committee presiding over this project included Dr. Ahmad Fathi Abu Kareem, Ms. Raqab's supervisor, Prof. Ebtisam Jawad Mahdi, the MEU internal evaluator, and Dr. Mohammad Saleem Al-Zeboun from the University of Jordan as the external evaluator.