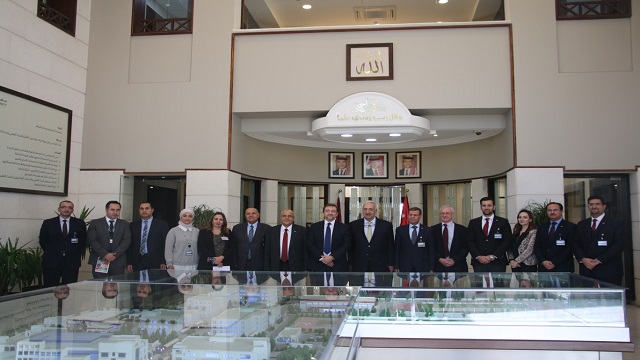 Amman – A meeting was held at the Middle East University with a delegation from the University of Strathclyde, founded in Glasgow, Scotland in 1796, the UK's first technology university, to develop a business plan for partnership in business, engineering, law, literature, science, information technology, and artificial intelligence. After the two universities launched a joint program for pharmaceutical and pharmaceutical sciences in mid-September.
A memorandum of understanding was signed between the two sides in preparation for continuing the procedures related to the accreditation and standards of academic accreditation, and the development of courses and study plans.
Dr. Yacoub Nasser Al-Din, Chairman of the Board of Trustees of the Middle East University, said after the talks and the signing of the Memorandum of Understanding that these programs with international universities, with a long history in academic education and scientific research will enhance our local experience to promote the higher education sector and make it more responsive to the requirements of development. Comprehensive, more in line with recent developments in various fields of science, the information technology revolution, the fourth industrial era.
He explained that these joint programs meet the vision of His Majesty King Abdullah II Ibn Al Hussein to develop education in our country Jordan, through its components based on the best quality standards in the region, and through openness to the best global experiences, and benefit from them through cooperation and practical partnership.
He added that these programs would attract Arab students to Jordan, with the consequent income from the hard currency of the country, as well as bringing the distance for Jordanian and Arab students to study in British universities in Jordan, which provides them with a lot of material and moral burdens, especially as certificates It is issued by these universities and is also accredited by the Jordanian Ministry of Higher Education and Scientific Research, and hence from all similar ministries in Arab and friendly countries.