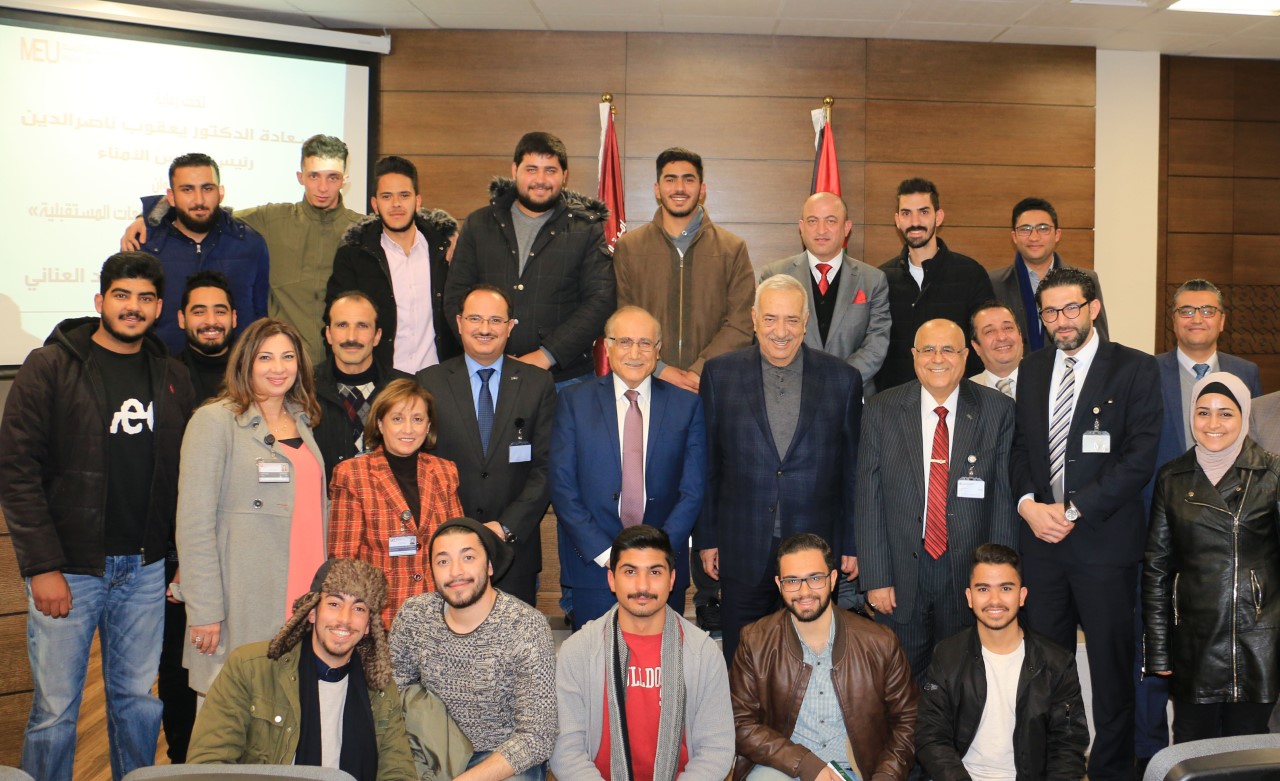 AMMAN – Prof. Jawad Al Anani urged Jordanians to stand behind the leadership of his Majesty King Abdullah II ibn Al Hussein in light of the recent complicated conditions marring the region.
Prof. Al Anani was hosted at a seminar organised by the Faculty of Business at Middle East University, titled "The Current Economic State and Our Hopes for the Future", which was moderated by Prof. Mahmoud Al Wadi, the Dean of Business, and attended by Dr. Yacoub Nasereddin, the Chairman of the Board of Trustees. Prof. Al Anani stated, "Jordan has faced many challenges, both internally and externally, which have had a direct effect on the national economy. Because our Kingdom has a distinctly vital geographical location and is at the very centre of a turbulent region, the Jordanian people must do all that they can to support the nation's Hashemite leadership. This is the best way for any Jordanian to stand up against any attempts to diminish Jordan's national security."
Prof. Al Anani went on to remark, "Jordanian economic policy has successfully maintained the nation's economic stability indicators for years, despite the conflicts and wars that have shaken the region. And it is the Kingdom's policy of stability maintenance that has kept its regional and international economic relationships viable."
Addressing the internal challenges facing the Jordanian economy, Prof. Al Anani said, "These challenges can be directly attributed to the mismanagement of resources, the population's rapid growth, and a general lack of strategic planning for the future. The current state of the Jordanian economy has negatively affected our citizen's income levels and their willingness to work at government institutions, which has led to an increase in taxes that limited investment opportunities."
Prof. Al Anani introduced a number of solutions to tackle the economic challenges at hand and discussed how Jordan could benefit from technological advancements and applying AI techniques. He illustrated how this would encourage investment, create new job opportunities in the private sector, and promote efficiency in governmental operations.
At the end of the seminar, Prof. Al Anani answered questions that faculty members and students asked in regards to the state of the Jordanian economy and recent developments in regional and international affairs.