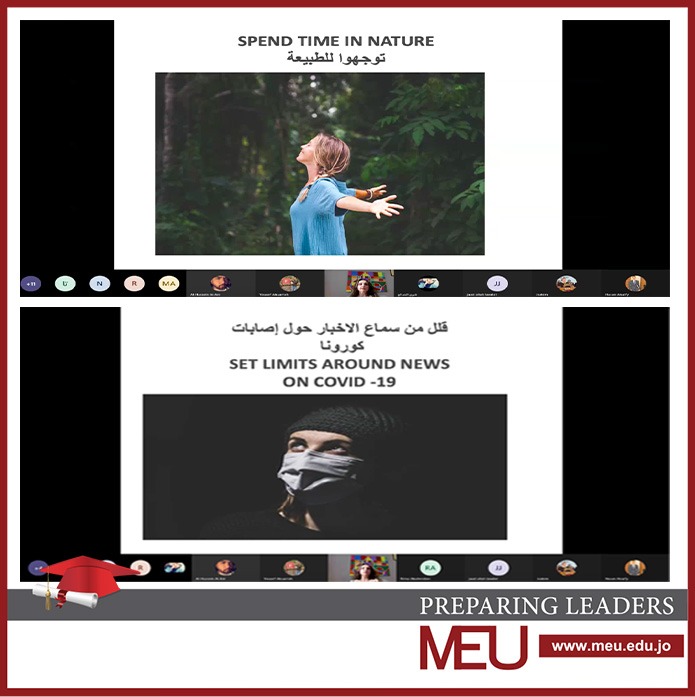 The Counselling and Psychological Services Centre at Middle East University organised a psychological empowerment session for students and staff on how to deal with stress and maintain our mental health during the coronavirus pandemic.
The Director of CPSC, Dr Amani Doughlas, discussed the stressful conditions ensuing from the coronavirus pandemic and how challenging it was for everyone to adapt to the changes made to our daily lives due to social distancing, distance learning and work from home.
She said that lockdowns and the accompanied isolation were mentally draining for people all around the world, and the continuous increase of cases and loss of loved ones has left its toll on our anxiety levels.
Dr Doughlas recommended attendees to practice strategies for reducing stress levels such as paying more attention to our needs and feelings, and managing our stress levels by avoiding news about new cases and only resorting to reliable information sources. She stressed the importance of focusing on the positives by following reports of recovered cases, and spending time outdoors in order to maintain our physical health and reduce stress hormones. She also suggested deep breathing exercises for 3 to 5 minutes, and dedicating 150 minutes of weekly exercise, as recommended by the World Health Organization, to better both our physical and mental states.
Dr Doughlas encouraged attendees to step away from social media platforms and ensure daily communication, even if remotely, with others, to share our troubles and wave off feelings of loneliness and isolation.  She also advised them to maintain a healthy life-work balance and dedicate time for rest and entertainment.