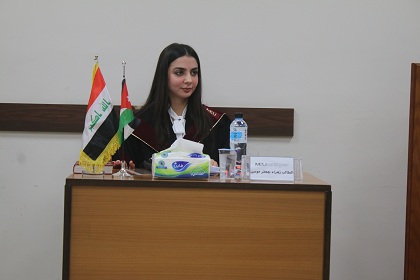 AMMAN – Researcher and Faculty of Business student Zahra' Mousa defended her thesis, "The Effect of Professional Capital on Promoting Sustained Competition as Illustrated by Examining the Variables of Human Resources Management in the Amman Concrete Industry – A Survey"
The researcher's goal was to illustrate the relationship between the amount of professional capital available at a given concrete production company in Amman and how it affects the sustained competition between them by examining how differences in the application of human resource management affects both variables. The subject sample studied consisted of 302 individuals randomly chosen from a population of 1,400 employees from various levels of management.
The results of the study showed that the surveyed employees perceived that the firms they are employed by, being construction firms that specialise in concrete production, had a high level of professional capital, a medium level of competitive edge, and a high level of human resource management. The results of this study also indicated that the degree of perceived human resource management was positively correlated to the combined variables of sustained competitiveness and professional capital. This indicates that human resource management plays an important role in promoting professional capital and sustained competition between concrete production companies.
Ms. Mousa concluded the study by describing how these results demonstrate the importance of investing in professional capital and increasing the diversity of company management, as this allows concrete production companies to maintain any competitive advantage they have and be more prepared to face any potential challenges. She also illustrated how investing in professional capital and increasing diversity in management will allow firms to better address their customer's needs and the needs of the market. She also discussed how adopting social responsibility as a pillar of an organizations' culture will allow them to improve their relationship with their current customers and help them grow their customer base.
The thesis assessment committee presiding over this project included Dr. Ahmad Ali Saleh, Ms. Mousa's supervisor and head of the committee, Dr. Fayez al-Badri al-Maqableh, the internal MEU evaluator and head of the committee, and Prof. Mahmoud Ahmad Joudeh from the Applied Science Private University as the external evaluator.