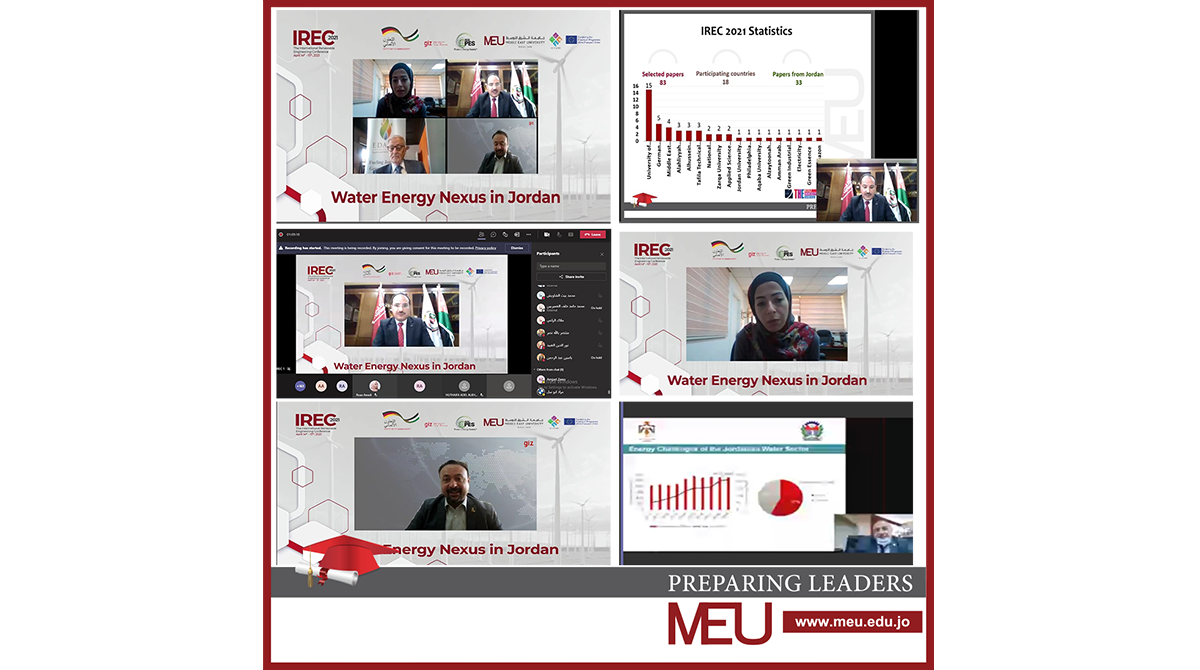 Under the patronage of the Minister of Higher Education and Scientific Research Prof. Mohammad Khair Ahmad Abu Kdais, and in the presence of the President of the Higher Education Accreditation Commission Prof. Thafer Assaraira, the presidents of several Jordanian universities, and Arab cultural attachés, and in cooperation with the German Corporation for International Cooperation (GIZ) and its partners in AT-SGIRES, an Erasums+ project, as well as the support of the IEEE-Power and Energy Society, MEU held the International Renewable Energy Conference (IREC 2021) virtually on Wednesday and Thursday 14-15/04/2021.
During the opening session, Prof. Ala'a Eddin Al Halhouli explained that the conference is intended to encourage researchers, scientists, engineers and students to present the results of their academic research, share their expertise and ideas about renewable energy, strengthen their knowledge of the importance of smart networks, cybersecurity, and the modern technology available for renewable energy and how to use it as an alternative to traditional energy.  Numerous participants from different countries were encouraged to share their ideas and experiences and to build new relationships and partnerships to increase the number of participating projects.
The conference featured the achievements of students from Jordanian, Arab and international universities, as well as those of companies and organizations working in renewable energy around the world. It focused on several pillars, including innovation in technology, preparing innovative training strategies in the areas of smart networks and renewable energy, the importance of the methods used to control smart networks, the importance of AI applications, and the future trends and challenges of renewable energy.