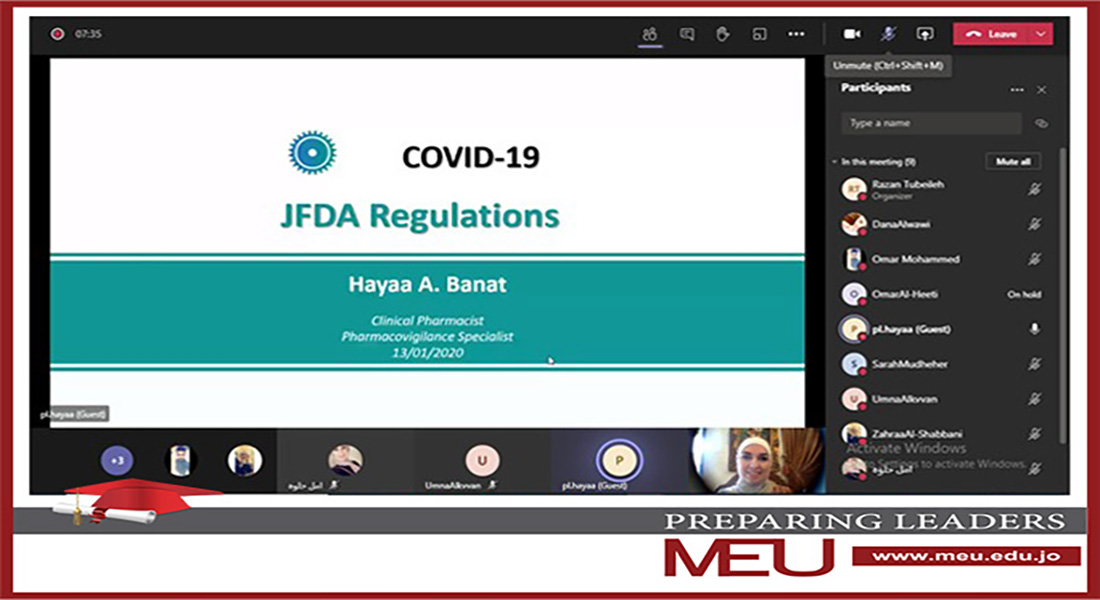 The Faculty of Pharmacy at the MEU and the Jordan Food and Drug Administration organized a video conference yesterday to introduce the administration's supervisory role.
The lecture, entitled "JFDA Regulations; COVID-19", was aimed at explaining how the JFDA studies, records and keeps track of drug safety in Jordan, especially during the pandemic. Such role is governed by explicit principles and guidelines, as was pointed out by the pharmacovigilance specialist at the JFDA , Hayaa Banat, who also explained how such principles are implemented at the JFDA.
She also discussed the main activities and procedures taken in the pharmacovigilance field to guarantee the seamlessness of their work. Furthermore, she compared the Administration's work before and during the pandemic to accentuate its importance in ensuring the safety, efficiency and quality of drugs during the pandemic.
The lecture was concluded by highlighting the important role of the pharmacist in remaining vigilant to any drug-related problem by providing pharmaceutical care, observing side effects to minimize any drug-related problems, and guarantee the safety of their drug, especially that they are the specialists and the final defense line between the patient and the medication.
This initiative comes in line with the university's vision to produce better outputs from the Faculty of Pharmacy, enhance students' skills in pharmaceutical practice and establish partnerships with community organizations.