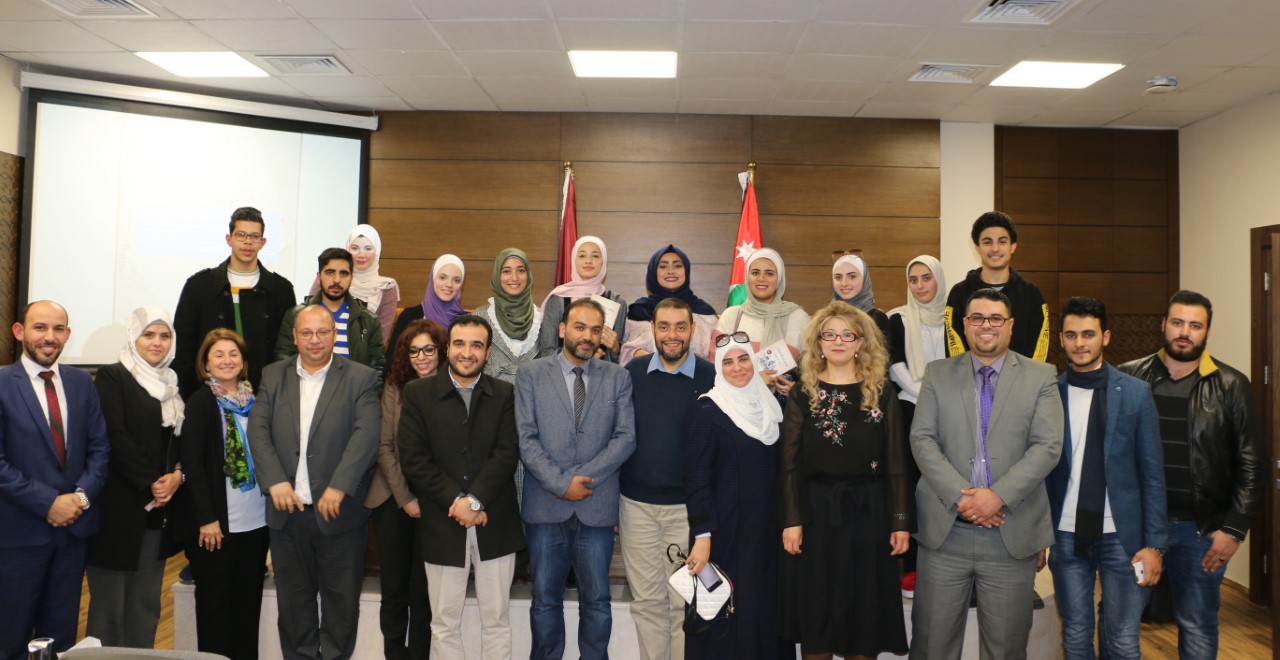 AMMAN – Middle East University organised a literary seminar with the slogan "we are the Arabic language" to celebrate the UN Arabic Language Day. Attendees included writer and poet Dr. Ayman Otoum, Dr. Tayseer Abu Odeh, Professor at Zaytooneh University, Mr. Ahmed Ghatasheh, faculty member at Middle East University, and a variety of other MEU faculty members, staff, and students.
During the seminar, Dr. Ayman Otoum spoke about the beauty of the Arabic language. He stated, "The Arabic language lends itself to being the perfect medium for expressing aesthetic details accurately and evocatively in both its written and spoken forms. Its beauty comes from the artful calligraphy of Arabic script as it appears in the Holy Qura'an, from the lyricism of its words as they are spoken, and from the endlessly magnificent meanings of the words that exist in the Arabic vocabulary."
Dr. Tayseer Abu Odeh also said, "The Arabic language is one that has borrowed words from some language, but also impactfully contributed to the vocabulary of countless others. The Arabic language's elegance is obvious when examining its literary prose, rhetoric, and poetry, the language's most popular and historically-significant medium of self-expression thanks to the massive cultural impact of the 'Ghazal' form of poetry. "
Mr. Ahmed Ghatasheh then went on to further speak about the impact of Arabic poetry on our culture, touching upon the importance of one of the most prominent poets of the Arabic Renaissance, Ahmed Shawqi, who he quoted by saying, "He who only uses language for the power of its charms… is using its beauty and secrets in vain."
At the end of the seminar, the attendees discussed important issues in Arabic language and literature. Dr. Otoum also gifted attendees with printed copies of his work.
This seminar is part of a series of seminars that MEU organises and hosts in order to support MEU's institutional effort to provide students with extracurricular activities that will allow them to meet Jordanian artists who excel in literature and poetry and help broaden their artistic and literary interests.