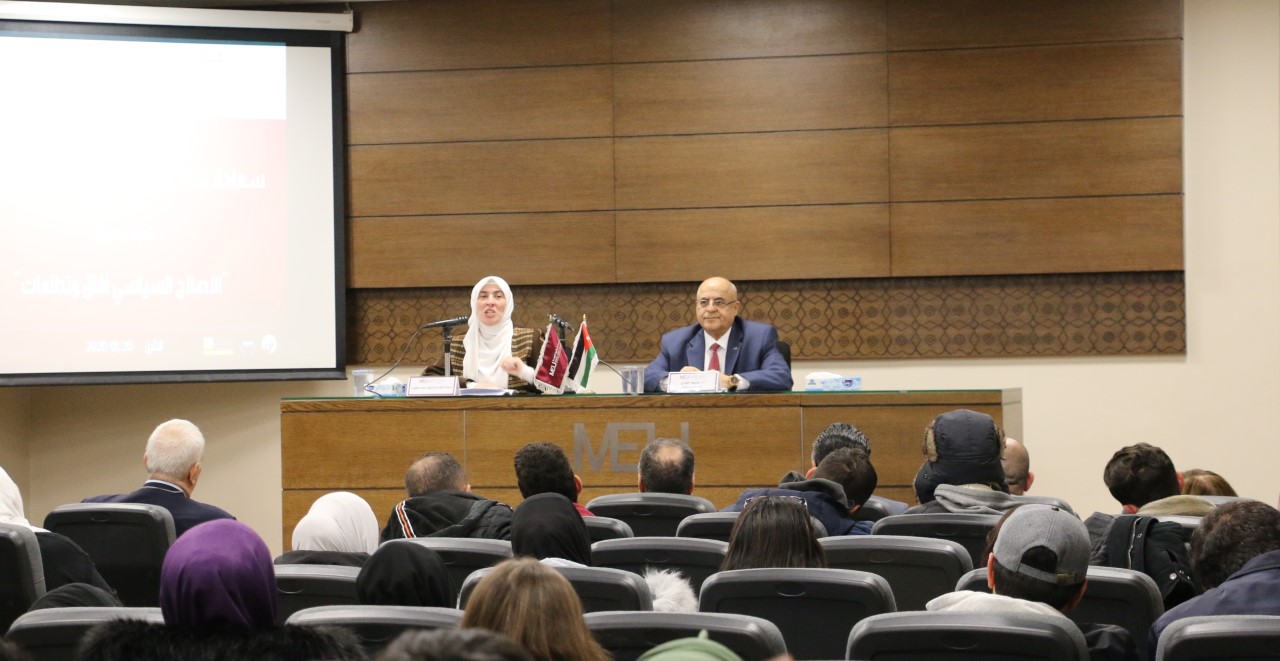 AMMAN – Parliamentarian Dr. Dima Tahboub discussed the importance of enacting his Majesty King Abdullah II bin Al Hussein's vision of giving Jordanian youths the space to participate in political decision-making processes and allowing them to help achieve political reform, as illustrated in his discussion papers.
MEU hosted Dr. Tahboub and held a seminar organised by the Faculty of Business at Middle East University, titled "Political Reform: Hopes and Future Expectations". The seminar was attended by Dr. Yacoub Nasereddin, the Chairman of the Board of Trustees, and moderated by Prof. Mahmoud Al Wadi, the Dean of Business and Vice President. Many students and faculty members were also in attendance and enthusiastically participated in the discourse.
Dr. Tahboub stated, "The Jordanian youth play a vital role in building a better future for Jordan so that it can achieve further success and prosperity. The best path leading to this outcome is the one outlined by his Majesty's directions, as expressed in his discussion papers." She continued to add, "We can only achieve reform by seriously considering the Jordanian youth's perspective and demands. We must encourage them to bring about the necessary changes."
On the subject of the role that local universities play in altering negative social behaviours, Dr. Tahboub commented, "The youth have always been the ones leading the way for change in all societies. As for our youth, they are standing against tribalism during elections and demanding that any candidates running for a seat in Parliament must present ambitious campaigns that address the needs of their community." She also urged the youth to become members of political parties that are patriotic and aim to fulfill the sovereignty of law and provide all Jordanians with equal opportunities.
Dr. Tahboub praised MEU's record of hosting prestigious international universities, as through such endeavours, MEU paves the way for providing the Jordanian and Arab youth with the advanced academic expertise these universities offer. She said, "MEU provides students with an invaluable opportunity to discover the rapid developments being made in various fields of science on a global scale."