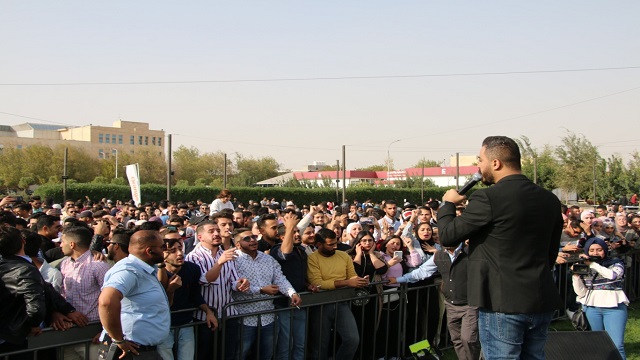 Amman – The Middle East University held a reception on Wednesday to welcome new students for the academic year 2019/2020.
The Vice President for Humanities Colleges, Prof. Dr. Mahmoud Al-Wadi, in the opening speech of the ceremony, organized by the Deanship of Student Affairs in cooperation with the Center for Student Recruitment, and attended by deans of faculties and members of the academic and administrative bodies, welcomed the new students, stressing the message of the Middle East University based on the meanings of industry Future leaders, prepare students to assume responsibilities in the march of development and nation-building.
For his part, Vice President for Academic Affairs, Prof. Alaa Al-Halhouli, in a speech, called on new students to invest in the activities provided by the Middle East University, especially with regard to the activities and projects launched by the Center for Innovation and Entrepreneurship, in order to refine the personality of the student and to recognize his abilities and talents And employ them.
In turn, the Dean of Student Affairs, Dr. Mamoun Al-Hunaiti, that these events represent a real opportunity to inform new students on the services provided by the University, stressing that they represent part of extracurricular activities that the Deanship is keen to organize, because of its great importance in the march of students, especially It provides them with the requisite skills that qualify them for the labor market, and on the other hand contributes to serving the local community.
During the ceremony, artistic paragraphs presented by the Jordanian artist Hussein Al-Salman, in addition to various cultural and sports competitions, and theatrical and artistic performances, performed by university students, won the admiration of students and attendance.