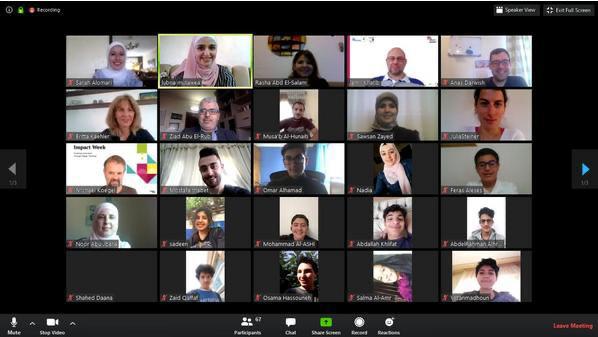 AMMAN – Middle East University, represented by the Innovation and Entrepreneurship Centre, participated in the "Impact Leaders" finals via telecommunication. The competition was organised by the German-Jordanian University, the "Impact Week" programme, and IBTECAR. 35 teams representing students from Jordanian schools and universities competed to find innovative solutions for issues facing the community and education in light of the Coronavirus crisis.
The IEC was represented by Dr. Abdelrahman Zuraik, who was a primary judge. The Optimizer Team won the first place for presenting an application that spreads positive energy amongst teenagers and school students. The Time Breakers Team came in second for their online educational programme that simulates the actual class environment by designing fictional characters that represent students. In the third place came the Thinkers Team, who developed an application that employs satellite and GPS systems to achieve social distancing, and the "Nasmeh" team won the Highest Community Achievement category.
MEU's IEC trained the participating teams prior to the finals by holding training courses via telecommunication. The training courses were conducted by IEC staff member Mr. Ali al-Ghosain, who discussed topics such as design thinking, how to find an idea for a project, and introduced them to the necessary tools for testing an entrepreneurial project's alignment with a targeted issue and to methods for best benefiting from feedback in the post-testing stage.