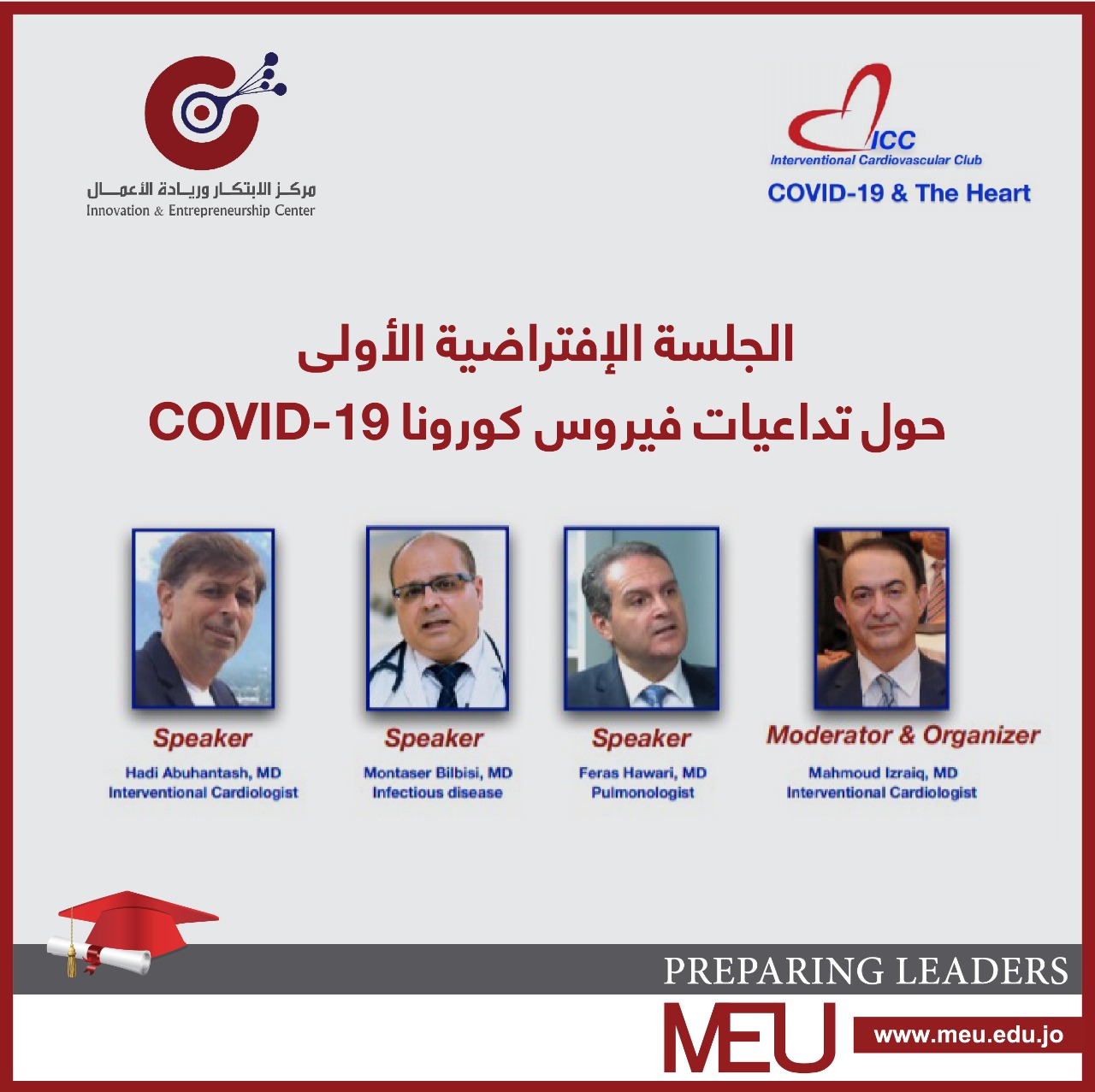 AMMAN – Middle East University's Innovation and Entrepreneurship Centre (IEC) organised a teleconference via Zoom to discuss the latest developments of the rapidly spreading virus. The meeting was held in cooperation with the Jordan Cardiac Society and the Interventional Cardiovascular Club (ICC), and was attended by 77 doctors from Jordan, Palestine, and other countries.
Dr. Ibrahim Zreq, the Programme Director of Internal Medicine at Specialty Hospital, said, "This session was the first of its kind in Jordan and the region. It was held to discuss the latest findings on the novel Coronavirus and the research being conducted to find an effective vaccine."
Dr. Ammar al-Maaytah, the Dean of Pharmacy at MEU, stated, "Cooperating in this way during these difficult circumstances is necessary for fighting against the effects of this pandemic. The Jordanian health sector has exerted exceptional efforts in combating the spread of COVID-19." He went on to further explain the methods being applied in Jordan to combat the spread of the novel Coronavirus and compared the current situation in Jordan with that of other countries.
Dr. Abdelrahman Zuraik, the Director of IEC, commented, "This session was organised to inform the community about the latest developments in how to best protect ourselves from the novel Coronavirus, the latest news on the number of confirmed cases in Jordan, and the possibility of the development of a vaccine. We also answered frequently asked questions asked by Jordanian medical students who participated in the session."
The meeting was attended by Dr. Feras Hawari, the Chief Resident of the Pulmonary and Critical Care Section, infectious diseases specialist Dr. Muntaser al-Belbeisi, interventional cardiology specialist Dr. Hadi abu Hantash, Senator Dr. Yousef Qsous, and cardiologist Dr. Imad Haddad.