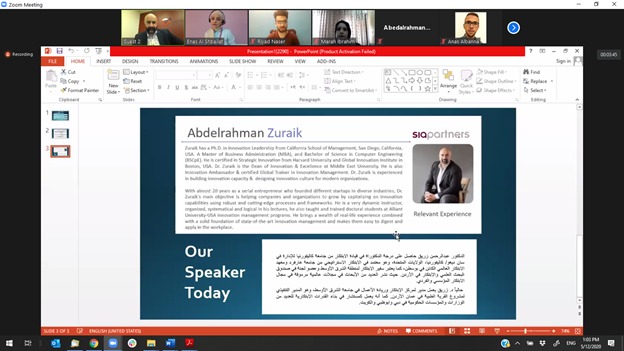 AMMAN – Dr. Abdelrahman Zuraik, the Director of the Innovation and Entrepreneurship Centre, attended an interactive session via telecommunication, joining a group of students from Luminus Technical University College (LTUC) to discuss innovation and entrepreneurship.
Dr. Zuraik, who is also a Global Trainer and Ambassador at the Global Innovation Management Institute (GIMI), said, "A successful entrepreneur should be absolutely positive of what it is they aim to achieve prior to entering the world of entrepreneurship. They should be willing to exert all necessary efforts when pursuing their endeavour, no matter what it entails of sacrifice and challenges. Being an entrepreneur is no easy job. Yes, it will be provide you with an income, but it won't instantly make you rich." Dr. Zuraik discussed the notions of the abundance mindset, which is to believe in the limitless opportunities the world has to offer, and the scarcity mindset, which is the fear that all effort will be in vain.
Dr. Abdelrahman Zuraik is the proud recipient of a PhD in Innovation Leadership from Alliant International University in California. He also received a certification in Strategic Innovation from Harvard University and GIMI. He is the ambassador of innovation for the Middle East, and is a committee member at the Scientific Research and Innovation Support Fund in Jordan.