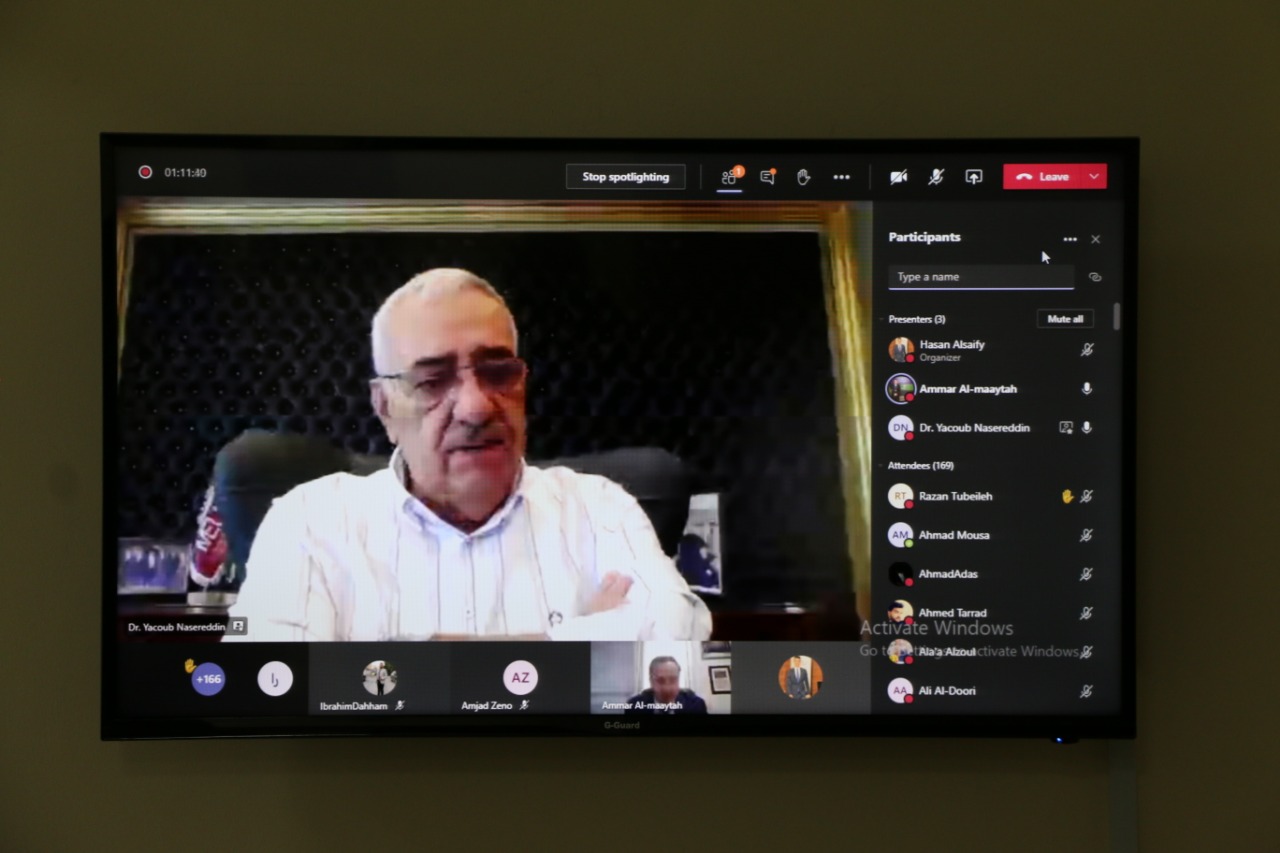 AMMAN – Under the patronage of the Chairman of Middle East University's Board of Trustees, Dr Yacoub Nasereddin, the Faculty of Pharmacy's Third Scientific and Educational Season launched its activities online with a lecture titled 'Mechanisms for Turning Threats into Opportunities while Managing Crisis – the Coronavirus Pandemic a Model'.
Dr Nasereddin spoke during the lecture stating that it is still early to criticise the procedures and mechanisms the Jordanian government has followed to manage the Coronavirus pandemic. He added that the government's efforts to control the spread of the Coronavirus have undoubtedly been effective. The lecture was attended by the Dean of Pharmacy, Prof. Ammar al-Maaytah, in addition to faculty, administrative staff and students.
Dr Nasereddin said that the decision to impose a nation-wide lockdown hinges on a number of factors connected to Jordan's economic state, the capacity of its security forces to implement the lockdown, and its citizens' compliance with its terms. He highlighted that society's intellectuals and social and media figures must play a role in raising people's awareness of the gravity of the current epidemiological situation, and the need for full abidance by the set laws and regulations to effectively limit the spread of the virus.
Dr Nasereddin stressed the importance of continuing the educational process in Jordan, calling upon all sector influencers to unite their efforts and work towards ensuring the success of the distance learning process. He confirmed that Jordan's current infrastructure does not allow for providing proper education for programmes such as medicine and pharmacy, urging concerned parties to innovate effective solutions to overcome the impacts of the Coronavirus pandemic and enable students of learning inside their laboratories with minimum risk.
The event witnessed a wide discussion amongst attendees, while students directed a large number of questions at Dr Nasereddin and Prof. al-Maaytah, which reflected their awareness of and interest in the matter at hand.