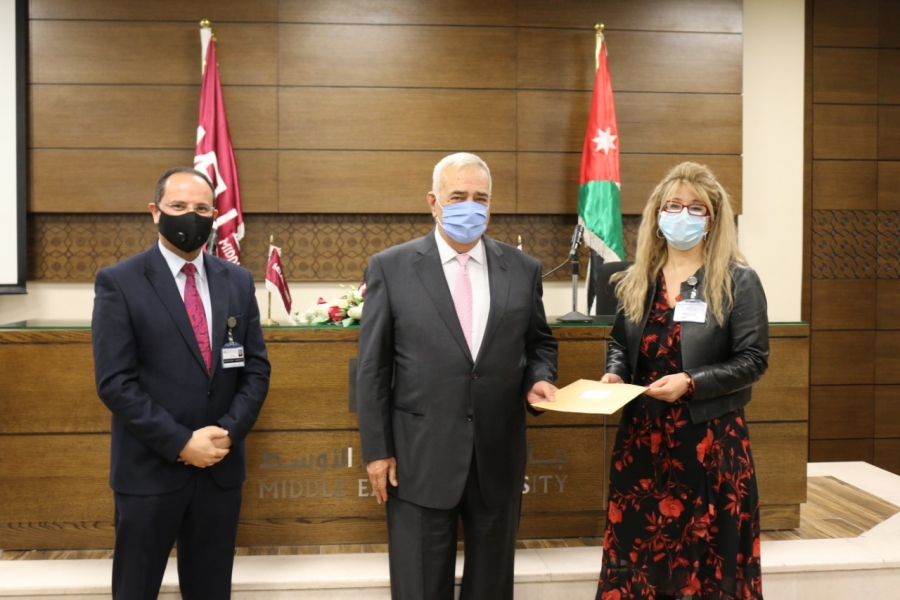 AMMAN – Middle East University awarded the faculty and administrative staff working at both the Faculty of Arts and Sciences and the Deanship of Accreditation, Quality and Information certificates of appreciation for the efforts they dedicated to obtain the golden standard of the Quality Assurance Certificate issued by the Accreditation and Quality Assurance Commission for Higher Education Institutions.
The ceremony was held under the patronage of the Chairman of MEU's Board of Trustees, Dr Yacoub Nasereddin, and was attended by the University President, Prof. Ala'aldeen al-Halhouli. Dr Nasereddin commended the responsible staff for their efforts and expressed his delight with the university's national and international achievements. He said that job security is linked to the accomplishments of any institution's associates, who should always look to innovate and have excellent performances.
Dr Nasereddin praised the Board of Trustees for their guidance and support throughout this journey, and their cooperation with the university's presidency to translate MEU's vision and objectives for research and community service. He pledged to continue on this path and develop the performance of all faculties and units to meet expectations and future plans.