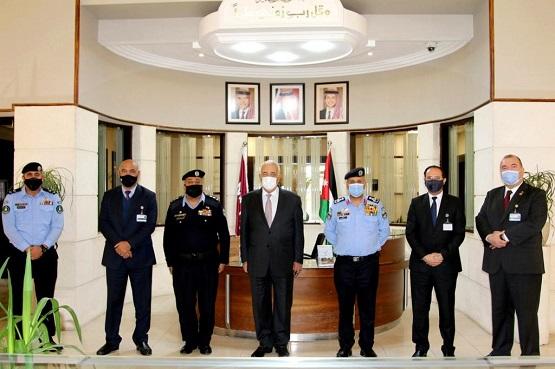 Middle East University signed a memorandum of understanding with the Public Security Directorate to promote cooperative relations between the two sides, specifically in endorsing the Promising Future Security Leaderships programme. The memorandum was signed with the attendance of the Assistant to the Director of Public Security for Management and Logistic Support, Brigadier General Dr Mo'tasem Abu Shtal, the Chairman of MEU's Board of Trustees, Dr Yacoub Nasereddin, and the University President, Prof. Ala'aldeen al-Halhouli.
Brigadier General Dr Abu Shtal said that the programme was launched in response to the royal directions to develop human capacities as the key to enhancing the quality of security services and applying best practices with high proficiency. He praised MEU for initiating cooperative relations with public institutions, such as PSD, in scientific, social and other fields with the aim to benefit the local community.
Dr Nasereddin stated that MEU is always on the lookout for opportunities to establish relations and sign agreements with public and private institutions in scientific, academic and training fields, which was reflected in its cooperation with PSD; allowing both sides to exchange expertise and promote joint operations. He commended PSD for the efforts it exerts to maintain the safety and security of our communities, and for the cooperative relations it upholds with local institutions.
Prof. al-Halhouli reiterated that MEU will provide support in academic and research fields in order to develop the skills and capabilities of PSD personnel, and enable them of pursuing their duties with sufficiency and adequacy. He added that the university will offer its training and teaching expertise to carry out courses within the programme.
The Promising Future Security Leaderships programme was launched last July under the patronage of his Royal Highness the Crown Prince al-Hussein bin Abdullah II at the General Directorate of Gendarmerie. The programme was designed to prepare future security leaderships that are capable of overcoming any emerging challenges and circumstances.