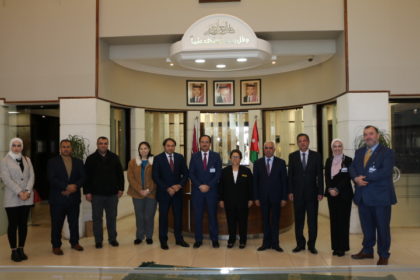 AMMAN – Middle East University, represented by the Consultancy and Training Centre, signed an agreement with SmartED, an organisation that offers consultancy services and develops educational systems. The agreement guarantees the cooperation of the two parties in the fields of education and training.
The agreement was signed by Prof. Aladdin Al Halhouli, the Vice President for Scientific Faculties, and Ms. Ameera Yaaqbeh, the founder of SmartED.
During the signing ceremony, Prof. Al Halhouli said, "MEU is dedicated to establishing close relationships with local community institutions that aim to help the members of our community further develop their skills and capabilities, especially in the field of education." The ceremony was attended by the Assistant to the President for Community Service and Public Relations, Dr. Saleem Sharif, the parliamentarian Ghazi Al Fayez, Prof. Naser Al Zayyat, a member of the SmartED's Board of Directors, and Mr. Ziad Al Masri.
Ms. Yaaqbeh praised MEU's role in supporting its local community and institutions, and complimented the high quality of education that the University is known to provide. She said, "MEU has made vital contributions to the globalisation of Jordan's higher education system, and has been an ardent supporter of its talented and innovative students, encouraging them to achieve the international distinction they are destined for in their fields of interest."
The agreement specified the cooperation and coordination of the two sides in offering a variety of training courses and educational programmes to MEU students and targeted groups from the local community. These courses and programmes will be offered in accordance with official regulations set by the Ministry of Higher Education and Scientific Research.