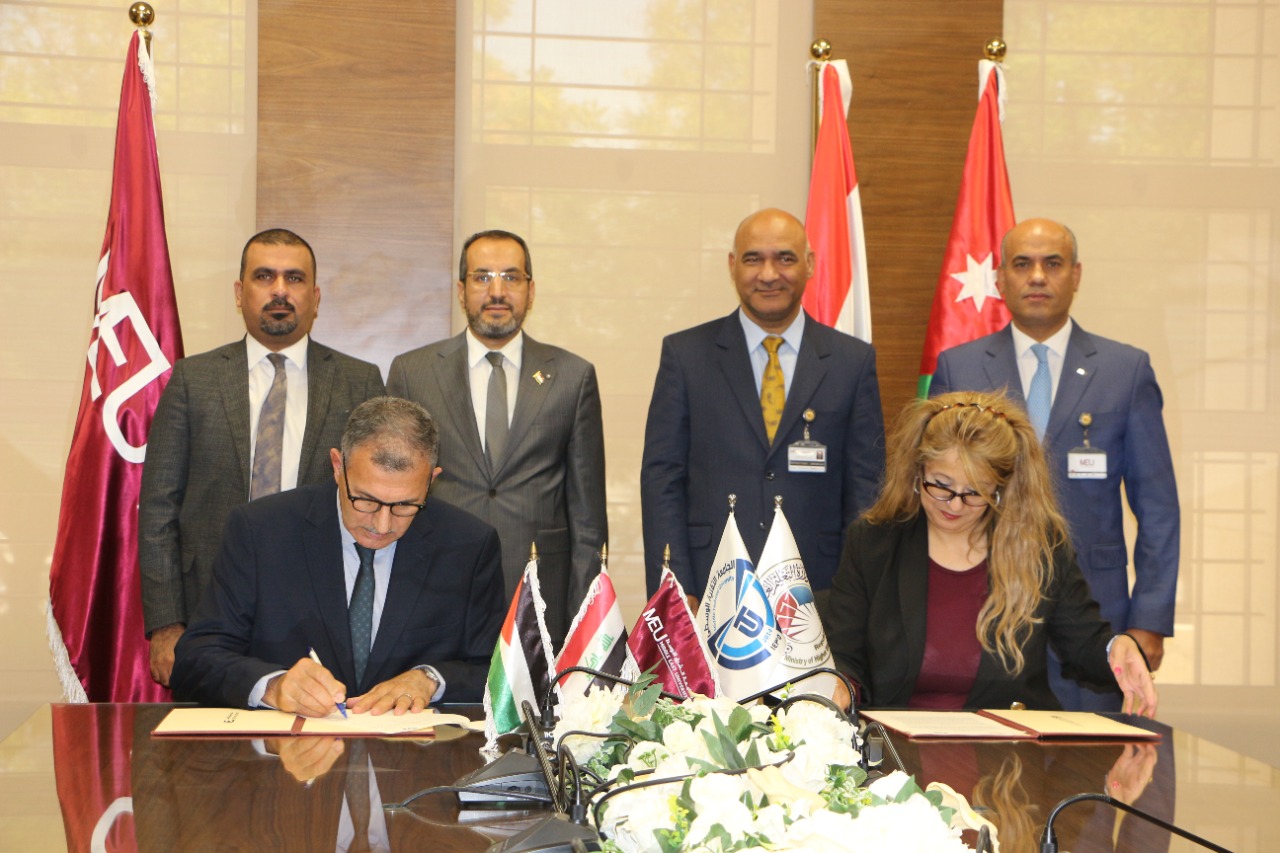 Represented by the Deputy President of MEU Prof. Salam Al-Mahadin, Middle East University Signed an Academic and Cultural Cooperation Agreement with the Middle Technical University (MTU) in Iraq, represented in turn by Prof. Abdel Muhsen Naji Al-Muheisen.
The agreement aims to consolidate cooperation between the two universities in academic, research and scientific areas, and to strengthen the academic relation between the two countries. This will be achieved through exchanged visits by students, researchers and faculty members at the university.
The MTU is a public university encompassing several faculties and institutes in Baghdad, Al-Anbar, Waset, and Diyala. Its oldest institute is the Medical Technical Institute in Baghdad, which was established in 1966. The university offers a technical education that fosters education and creativity, by training graduates that have the skills and capacities that the labour market needs. It is one of the most important technical universities in Iraq.
Commenting on this agreement, Prof. Salam Al-Mahadin said that MEU constantly focuses on having international partnerships with other universities. This is important, she continued, because it encourages excellence through hosted and joint programs, as well as student and research exchange programs. She also mentioned that MEU is the first among Jordanian universities that offers hosted and joint programs with distinguished universities in the UK.
From his part, Al-Muheisen expressed his pleasure to sign the agreement, since it will result in establishing academic exchange and creating a relation that is beneficial for both parties. He also commented positively on the university's infrastructure as he was taken in a tour around the campus. He also reviewed all the programs MEU offers, with special focus on the modern programs that are becoming increasingly demanded. Such programs represent the highest quality standards, both in terms of academic activities and it terms of instructors' performance.
For his part, the Iraqi Cultural Attaché at MEU, Dr. Waseem Al-Tamimi, commended this agreement, and said that it is important to maintain such kind of cooperation and communication on all the levels that serve the learning of Iraqi students at the university.
The two parties signed an agreement in the presence of the VP for Legal and Administrative Affairs Dr. Anees Mansour, the Dean of the Faculty of Media Dr. Hanan Al-Sheikh, the Dean of the Faculty of Arts and Sciences Dr. Ahmad Musa, the Dean of the Faculty of Pharmacy Dr. Nawzat Al-Jbour, the Director of Media and Public Relations Mr. Aysar Al-Nimr, and the Director of Scholarships and Cultural Relations at the MTU Prof. Azzah Abd Al-Sattar Mezher.