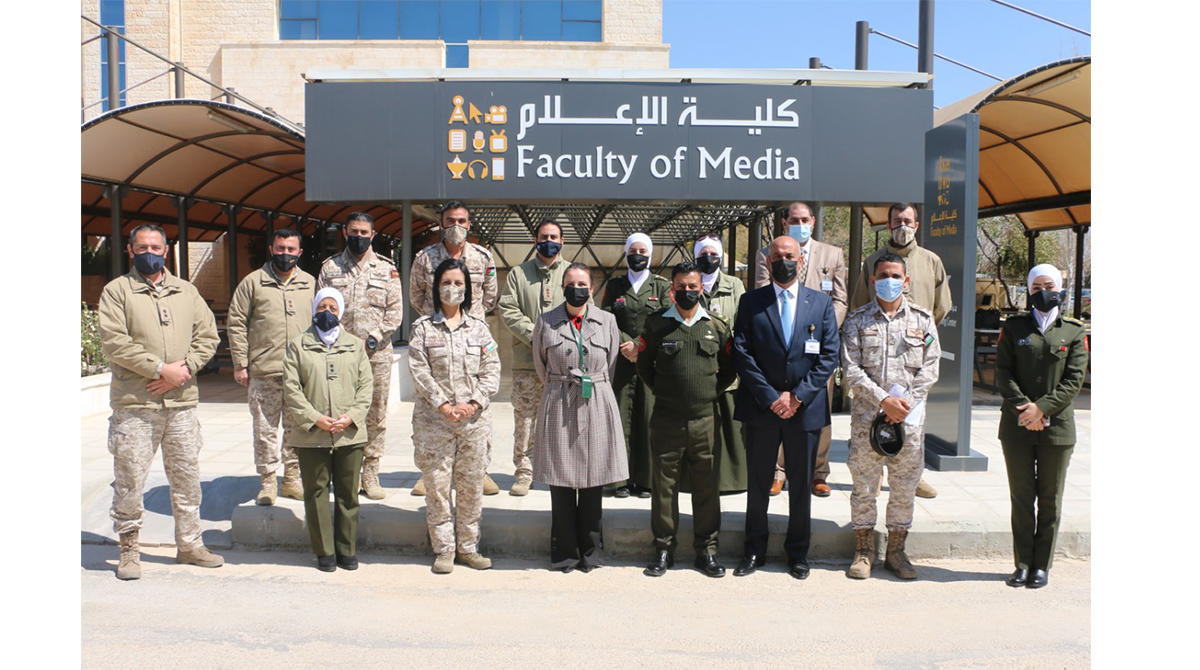 MEU received a host of participants in the Eighth Advanced Media Course, held by the Jordan Armed Forces-Arab Army Moral Guidance Department, with taking into consideration the measures for protecting public health and safety.
During the visit, Dr. Hanan Al-Sheikh, Dean of the Faculty of Media, briefed the guests on MEU's philosophy and vision, which primarily focuses on developing curricula across faculties so as to enhance the inputs and outputs of academic learning. This is especially true for the Faculty of Media, which introduced modern media technologies and courses to teach digital skills and explain the role of social media in forming the public opinion.
From her side, Dr. Layla Jarrar, Head of Journalism and Media, explained the significant role of postgraduate programs at MEU. She provided examples of her own experience to demonstrate the necessity of staying up-to-date with the digital revolution and of employing multimedia.
From his side, the Manager of the Media Training and Development Center at MEU, Dr. Mazen Al Fadawi, explained the importance of activating the practical aspect of the Faculty of Media's curriculum in order to train students and qualify them for the job market. He said that the center provides training courses on written journalism, television and radio, photography, and all sorts of communication skills.
Near the end of the visit, the delegation lauded the cooperation between the MEU and the Jordan Armed Forces, which asserts MEU's investment in undertaking its social responsibility and partnering with various institutions in Jordan, so as to serve the Jordanian youth and lay the road ahead of it to serve its country in turn. This visit is part of the MEU's celebrations of the Second Centennial.