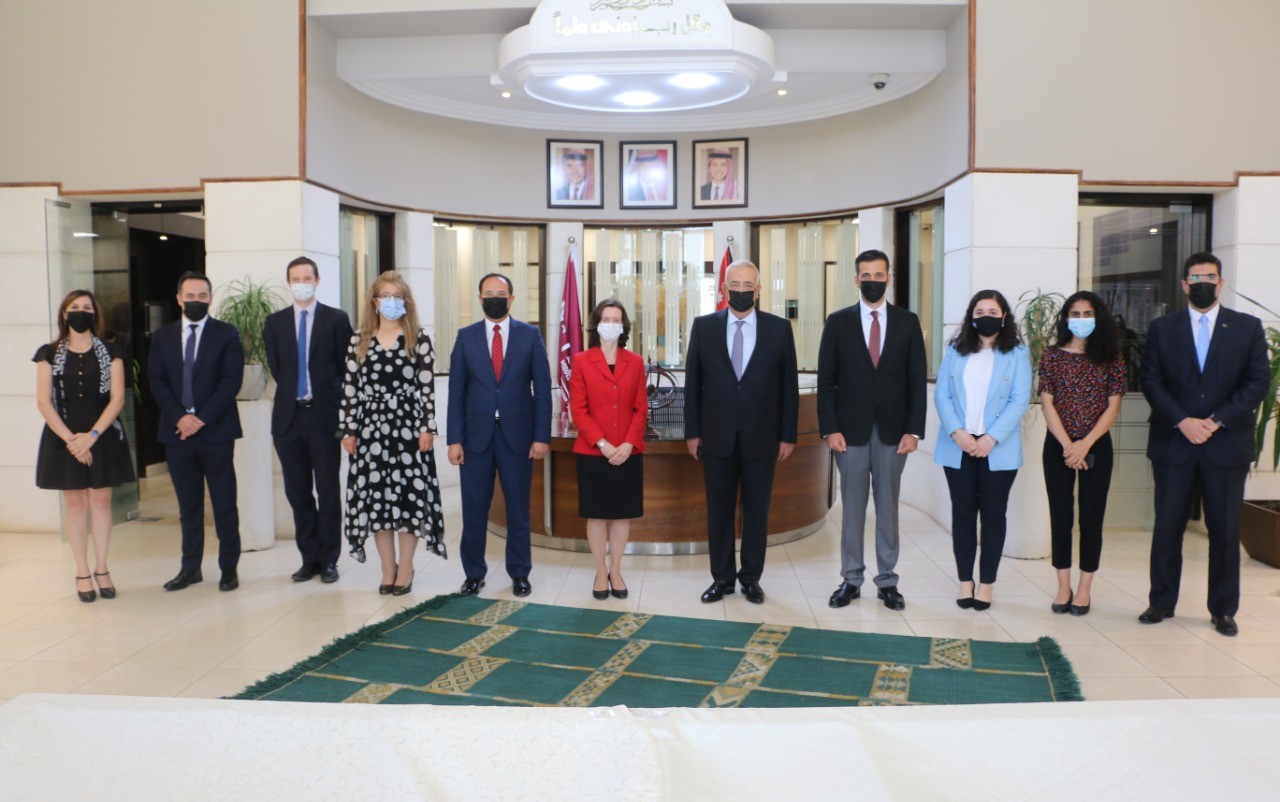 Amman – Dr. Yacoub Nasereddin, Chairman of the Board of Trustees, received the UK's ambassador to Jordan Mrs. Bridget Brind and her accompanying delegation, in the presence of MEU President Prof. Ala'addin Al Halhouli, the Vice Chairman of the Board of Directors Dr. Ahmad Nasereddin, the President's deputies, a host of MEU deans, and several personnel from the Deanship of International Programs.
As Dr. Yacoub Nasereddin welcomed the ambassador and her accompanying delegation, he asserted the significance of the relations that link between Jordan and the UK. He also assured that MEU is constantly invested in integrating the aspects of innovation and entrepreneurship into the programs and courses it offers, and making sure it is always up to date with global developments to enable students to stand out in their studies and find opportunities in the labor market.
He also talked about MEU's vision and mission to raise its courses and teaching methods to global standards, so as to be compatible with the academic developments witnessed globally and which are forming innovative models that all institutions must follow. Such developments, he pointed out, are slowly closing the gap between education and the labour market and bringing students closer to the opportunities they need to advance in their careers.
From his side, Dr. Ala'addin Al Halhoulin highlighted the major aspects of the MEU's strategic plan, which include signing strategic partnerships with academic institutions worldwide. He especially stressed the distinctiveness of MEU's partnerships with British universities in hosted and joint programs and international research projects, including the University of Bedfordshire, the University of Strathclyde, the University of Newcastle, and Coventry University.
During the visit, the ambassador met with the students of the hosted programs of the University of Bedfordshire at MEU, and the students of the joint MPharm program with the University of Strathclyde. She listened to their unique experiences throughout their studies, which they demonstrated by affirming that these programs are equipping them with the knowledge and motives to achieve a high level of excellence on the academic, practical, and personal levels. They also expressed their satisfaction with the "flipped classroom" teaching method used in these programs.
The ambassador asserted also that the embassy of her country always encourages and supports the promotion of academic links between Jordan and the UK. In addition, she explained the role that the embassy of the UK plays in keeping the dialogue going between the two countries and to establish more communication through academic experience. She added that the UK is interested in successful educational experiences in Jordan, and said she is impressed by the successful partnership model that exists between MEU and its British counterparts, emphasising her support of such efforts that aim to globalize higher education