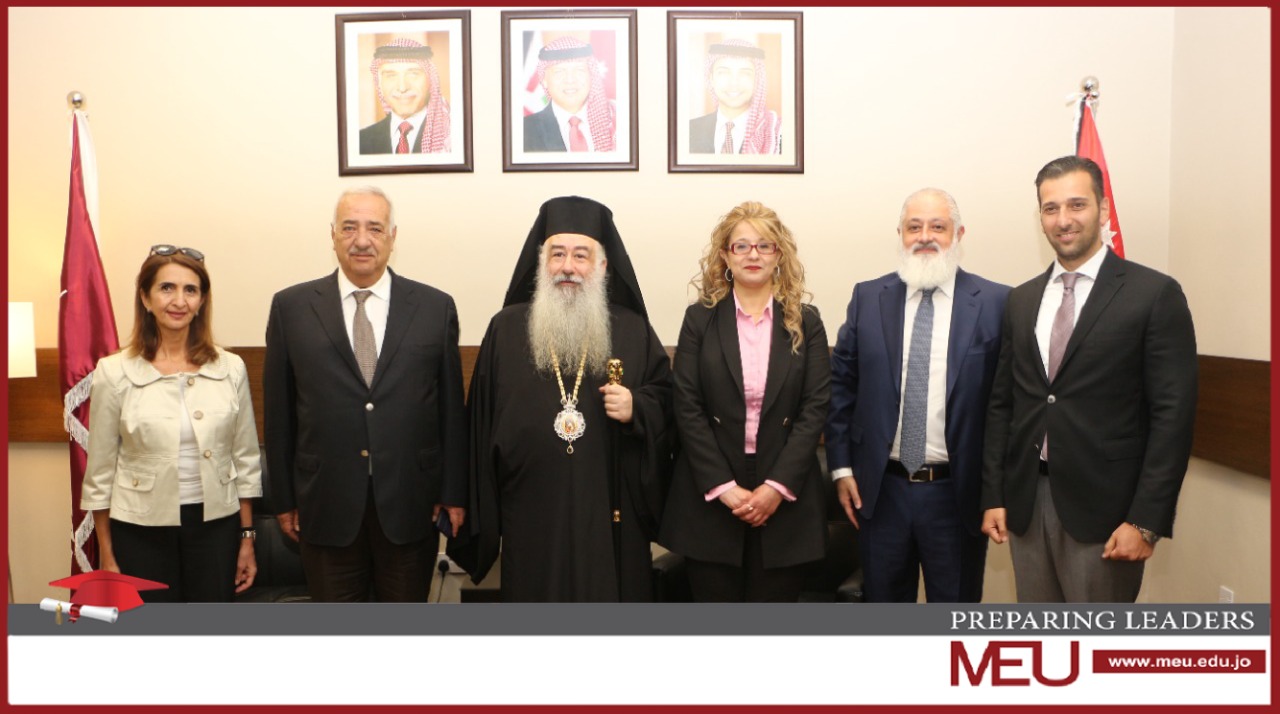 Jordan's Greek Orthodox Archbishop Christophoros Atallah visited MEU in a body of other esteemed guests, including Leen Al-Madanat, General Manager of Greek Orthodox Patriarchate Schools in Jordan, and several Christian clergymen and patriarchate school headmasters.
During the visit, Dr. Yacoub Nasereddin, Chairman of the Board of Trustees, welcomed the archbishop and the accompanying delegation, affirming the importance of the Christian religion in Jordan as one of the cornerstones on which this country was founded. He also pointed out to the outstanding and effective role of Christian academic and administrative personnel at MEU, since the university is an academic center that demonstrates co-existence, diversity and harmony.
For his part, the archbishop expressed his acknowledgement of MEU, with its members from both the academic and the administrative personnel, and lauded the effective, hassle-free cooperation with the university. He said it proves that MEU adopts a culture based on love, peace and strategic thought, which is an extension to the general culture of the whole country. He also expressed admiration of the university's work that contributes to establishing knowledge and the fear of God in generations.
Prof. Salam Al-Mahadin, Acting President of MEU, also gave a brief speech saying that the university is invested in creating a place that promotes for the values of unity and harmony, and that MEU's policy is built on the concept "There is no 'Other', as we are all one."
Al-Madanat, for her part, said that there were obvious signs of the spirit of cooperation and love during the visit, which can be considered a message of peace in its own right. She also expressed the urgent desire of the Greek Orthodox School Management to have a larger number of its students study the various and new programs offered by MEU and take part in extracurricular activities that reinforce the values of effective citizenship.
The visit also entailed signing a cooperation agreement that expresses the shared thoughts and approached between the two entities, and encourages the development of leadership and functional skills that qualify next generations for serving this beloved country.