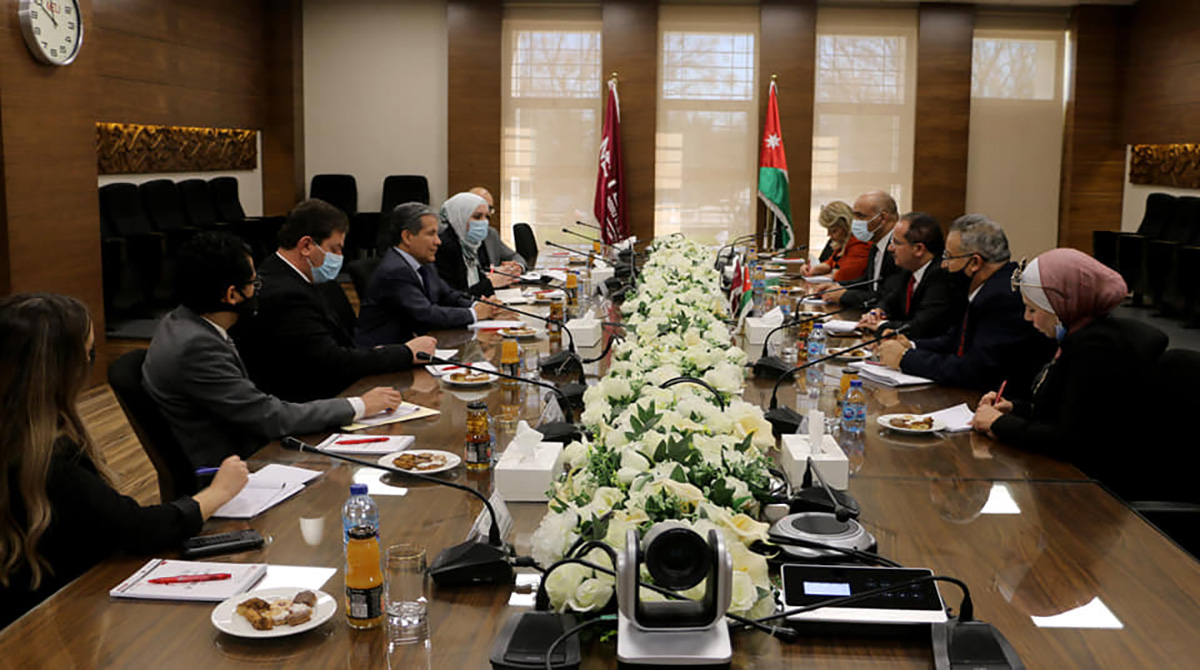 MEU received the Mexican Ambassador to Jordan Roberto Rodrigo Hernandez and his accompanying delegation, hosted by President Prof. Ala'aldeen al-Halhouli, Prof. Anes Al-Mansoor, Vice President for Administrative and Legal Affairs, and Dr. Mahmoud Al-Disi, Manager of the Consulting, Training and Language Center.
During the meeting, Prof. Ala'aldeen al-Halhouli briefed the guest on Middle East University, having been established in 2005 as a higher-education institution, before introducing degree programs across 9 faculties at the beginning of the second semester 2008-2009. Currently, MEU offers 23 degree programs and 9 master's programs, in addition to one higher diploma in Education.
Moreover, President al-Halhouli explained MEU strategy and goals as well as its accomplishments, having achieved global-level rankings and received international accreditations. He also made reference to the partnerships that MEU signed with several prestigious universities to offer hosted and joint programs, and the innovative contributions that MEU is making in the area of artificial and digital intelligence. Furthermore, he expressed his interest in academic cooperation with Mexican universities.
From his side, Ambassador Hernandez lauded the capacities and expertise that MEU hosts, and highlighted the legacy and expertise of Mexican universities, especially manifested in the areas of programming, technology, engineering, and languages. He expressed his interest in cooperation with MEU to promote cultural exchange and academic research in different fields and specializations. The two parties also discusses the possibility of the temporary exchange of students and instructors to share knowledge and experience, promote studying Arabic and Spanish among non-natives, and host researchers from both nations.