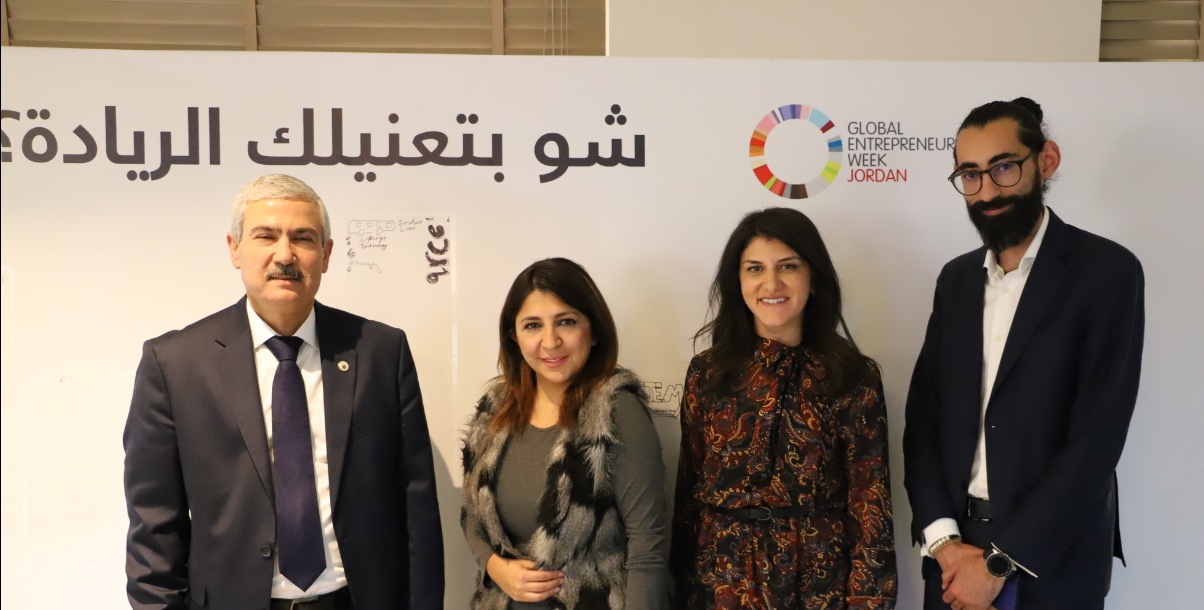 AMMAN – Middle East University is participating in the Global Entrepreneurship Week (GEW) for the fifth year in a row. The University believes in endorsing the spirit of entrepreneurship in the nation's youth as it will have a positive social and economic effect on their lives and on their communities.
The Global Entrepreneurship Week, organised annually by the Queen Rania Center for Entrepreneurship, aims to promote the spirit of entrepreneurship within our community, heighten general awareness of the positive effects that entrepreneurship has on the economy, and discuss industry issues that have been observed in the experience of entrepreneurs. The event is taking place from the 18th till the 24th of November.
Prof. Aladdin Al Halhouli, the Vice President for Scientific Faculties, said, "By participating in GEW and through our partnership with QRCE, we look to increase our students' awareness of the importance of entrepreneurship and teach them about its significance in advancing the field of modern economics." He also added, "Institutions in both the public and private sector have a responsibility towards our society and must support events such as GEW, as they will provide the next generation with the skills they need to bring about the sustainable development of our society."
Dr. Saleem Sharif, the Assistant to the President for Community Service, remarked, "The importance of this event lies in its ability to provide participants with vital knowledge and experience in the field of entrepreneurship that will allow them to build a stronger economy in the future. I believe that this event will give them the tools to turn their business ideas into successful projects." He also mentioned how events like this one allow participants to exchange expertise with one another and meet potential sponsors.
MEU is holding a number of events and workshops on its campus during the week, including workshops titled, "Entrepreneurial Thinking Skills", "Creative Pharmaceutical Marketing", "Discussing Modern Promotional Issues and Linking them to the World of Entrepreneurship", and "MEU's Success Story with International Programmes (the University of Bedfordshire and the University of Strathclyde)".