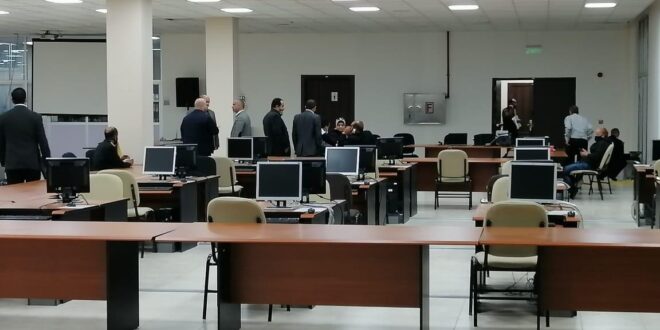 AMMAN – The Independent Election Commission used lecture halls, in coordination with Middle East University, as vote-counting centres for the Fourth Constituency in the Central Badyah. The university suitably equipped and prepared these lecture halls to ensure a smooth and error-free vote-counting process.
The Chairman of MEU's Board of Trustees, Dr Yacoub Nasereddin, spoke to radio presenter Dr Hani al-Badri on his morning show Wast al-Balad, which airs on Radio Fann, about the university's involvement in this national festival since last night and until early morning today.
Dr Nasereddin said that the university's IT team and more than 80 of its personnel worked tirelessly to implement the MEU administration's plan for this special day, in the aim to further expand its community service efforts.
Dr Nasereddin confirmed MEU's keenness on involving its personnel in institutional service work in cooperation with government bodies, which aligns with its strategic approach to its internal work environment as one with the larger community environment.
Dr Nasereddin praised public institutions' efforts, led by his Majesty King Abdullah II bin al-Hussein, which proved to the whole world that Jordan is capable of running and organising its parliamentary elections during a global crisis.
Dr Nasereddin issued a statement last night encouraging MEU's faculty, staff and students to participate in the elections and practice their right to vote for whom they see fit. He also urged Jordanians to live up to his Majesty's expectations and hopes for a better and more advanced Jordan by electing qualified and competent candidates.