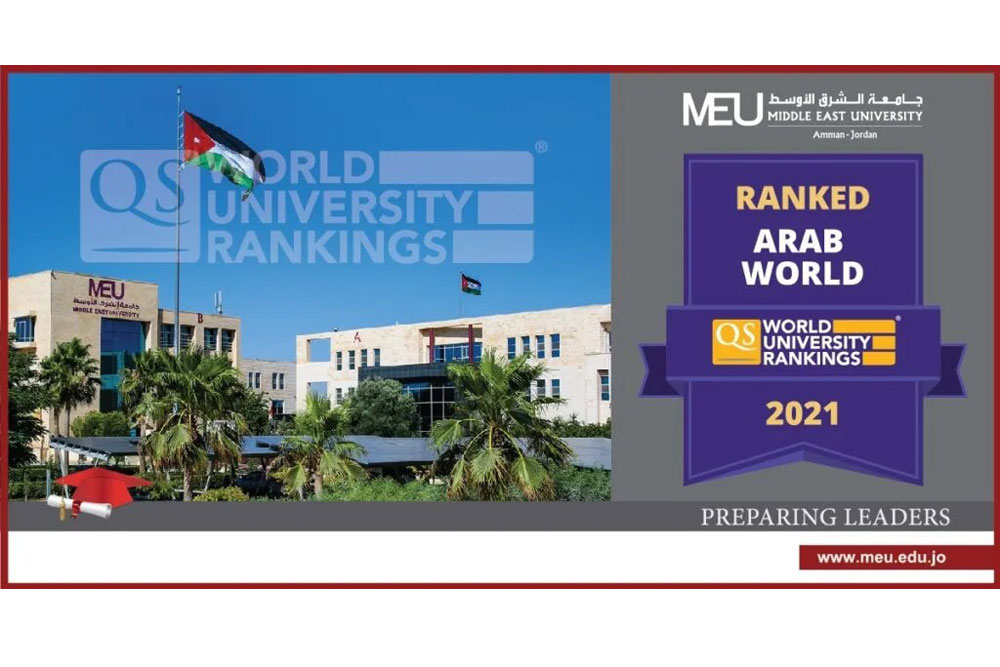 AMMAN – Middle East University applied for the QS Arab Region Rankings 2021 to occupy a respectable position in its first attempt. The university also occupied an advanced position amongst public and private Jordanian universities.
The University President, Prof. Ala'aldeen al-Halhouli, expressed his appreciation of the Board of Trustees' support in achieving the university's objectives in accordance with the outlined strategic plan. He also commended the university's associates for their efforts to advance MEU's reputation on local and international scales by adhering to its strategic choice; which is focused on globalisation, quality and excellence.
MEU ranked first in the region for Faculty Staff with PhD, which attests to its seriousness and keenness on recruiting expert academics and researchers. This achievement was preceded by occupying yet another respectable position in THE University Impact Rankings 2020.
This attempt and result aligns with MEU's mission and strategy to occupy advanced positions in global rankings and obtain prestigious accreditations. The MEU administration and staff have but one aim in sight; to advance the university's academic and administrative performances in order to produce distinct professionals and attract national and international partnerships.
MEU maintains close relationships with employers in both the public and private sectors to keep pace with market developments and ever-changing requirements. It adopts modern education management methodologies that allow it to accelerate its efforts towards occupying advanced positions amongst top universities in the region and around the world.
MEU also achieved an advanced ranking for International Students and Web Impact, which responds to the recent advancement of its position in the July 2020 edition of Webometrics.